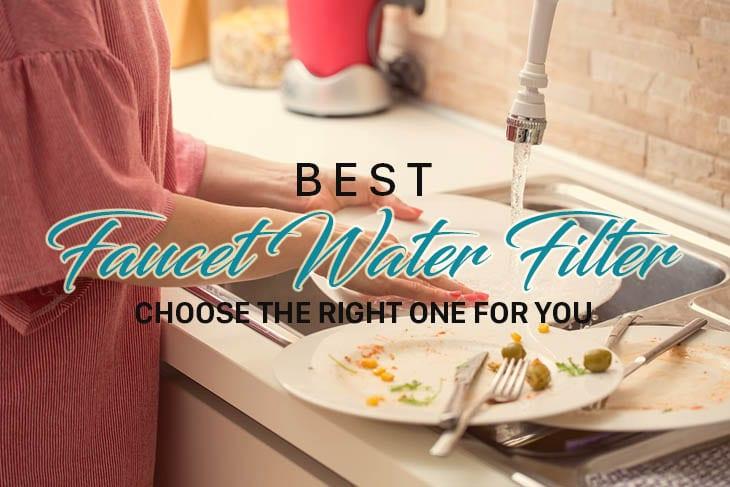 Are you among those people that are too tired and sick of buying bottled water due to a terrible taste of your tap water at home? If yes, then best faucet water filter is the best option you should consider. Why? Well, water filters could indeed improve the taste of the water and could also protect you from harmful contaminants.
Sounds great, right? But how are you going to choose the best one from among the wide options in the market today? With that, as you go through this article, you'll come up with the best option ever.
Reviews Of The Best Faucet Water Filter: Choose The Right One For You
Product Comparison Table
For a quick glance of these best options, consider this table:
**For more details of these products, read below.
Reviews Of The Best Faucet Water Filter
There are numbers of water filters out there that you might consider choosing from and 5 of the best options are the following:
Best Pick For Ease Of Use And Installation
If looking for a water filter that only requires a single click, then this one from PUR is the best choice.
Indeed a high-tech looking addition to your kitchen sink, this PUR 3-Stage Advanced Faucet Water Filter is simply the best choice by many.
It needs no tools to be installed rather only buy just a click. With that, it is considered as a very cost effective way in order to get immediate access to gallons of fresh and clean drinking as well as cooking water.
And this one definitely removes almost 99% of lead and some other touch pharmaceuticals leading to a great tasting water straight from the faucet.
In terms of changing the filter, life is made a lot easier. It also features a handy electronic life indicator which shows when the filter already needs changing. This water filter is also made from durable materials in order for its sleek look resists the damage that you see from scuffs and bumps in the kitchen.
Very easy and simple installation
Perfectly fits wherever you want
Electronic filter life indicator
Enough for smaller households
It won't work with pull down or pull out faucets
100-gallon life cartridge might not suit all homes
Best Pick For Great Supply Of Sparkling Fresh Water
For families that are looking for unrestricted supplies of sparkling and fresh tap water, this one is the best option to consider.
This one is indeed a great step up from your general idea about faucet filter as it really delivers in terms of purifying tap water. You will definitely get a seemingly endless supply of clean and crisp tasting water direct from the device.
New wave Enviro 10 Stage Water Filter System is directly attached to the faucet. But, as an extra, a kit is indeed available in order to hide it away under the sink.
With regards to capacity, the said water filter will offer you with 1500 gallons of sparkling fresh water prior to the need of changing the filter. It would be more than enough to last a family with four members beyond 12 months.
Easy to use and audible beeping
Heating element might stop working
Too heavy and difficult to store
Best Pick For The Money
If money is a big factor then this one from Culligan is the best water filter to consider.
You will indeed enjoy great tasting water through the use of this faucet mount system having the right cost as well.
There will be an assurance that the water would taste better at the same time odors would be removed along with the elimination of contaminants. And this filter is also an easy to install option.
With this compact filter, you could turn on the filter option through pulling out a diverter tab. It could be installed within minutes having no tools needed. This filter also eliminates or reduces a variety of contaminants effective and it includes sediment, cysts, lindane and chlorine. Every cartridge would last 200 gallons approximately which you could use for almost two months.
Easy to switch off and on
Removes different contaminants
Inexpensive unit and cartridges
Heavy duty metal fittings
It comes with adapters for varied thread patterns
Hard to replace cartridge
Best Pick For Overall Water Faucet
If looking for a filter that almost had it all in terms of filtering features, then this one from DuPont must not be ignored.
There is actually no need of guessing whether the filter needs to be replaced. At the same time, there will also be no more throwing of the money away on those replacements that are not even needed.
It has a built-in digital meter allowing you to know when it is time to replace the cartridge therefore you always have a great time enjoying the fresh and filtered water.
This water filter from DuPont comes in three finishes so you could easily choose the unit matching your kitchen. It could be installed easily even without tools. It will effectively remove numbers of contaminants. And also, you could relax because your purchase is being protected by a warranty.
Easy to read and built in digital meter
It features diverter switch
Affordable replacement cartridges
A bit expensive than other filters
Chrome finish could chip over time
Best Pick For A Cheap Water Filter
Wanting to enjoy filtered water anytime? If yes, then this water filter offered by InstaPure is definitely a practical choice to consider.
Indeed, this one is a very affordable water filter that everyone must not ignore. In most kitchen faucets, this one installs easily without needing any tools at all.
So you could use it in just a matter of minutes. It is a water filter that also effectively removes bad odors, lead, cysts, and chlorine leading a delicious and safe water as you turn on the faucet.
Along with the unit is a starter cartridge that is so easy to use and you could also choose between having filtered and unfiltered water, therefore, prolongs the cartridge's life.
Allows to choose between unfiltered and filtered modes
Various adapters to fit on most kitchen faucets
Filters out contaminants effectively
The non-stick coating could wear off
It doesn't have a locking lid
What Is A Faucet Water Filter?
One from those long line of appliances which serve in order to improve drinking experiences is the faucet water filter. Some other appliances of this kind would include blenders and espresso machines.
A faucet water filter will be attached right to your faucet. Rather than using complex filtration systems or considering putting the water in the jug with a filter, with water filter you could get clean and delicious water right from your tap.
In addition, faucet water filter connects right to the outside of the faucet and works every single time that the faucet is turned on. Indeed, these are great options in water filters due to the fact that they could be installed in seconds but wouldn't affect the functionality of the faucet. Along with that, it is also easy to use wherein you only need to turn on the water.
Different Types Of Faucet Water Filter
Once you want to make your taste water a lot better and also remove the impurities from the water making it safe for consumption, the use of water faucet filter is indeed a wise choice. If planning to shop for this kind of filter, you might notice that there are wide numbers of sizes, brands, and designs in the market today.
In connection to that, you might also notice two different kinds of this water filter and these are the following:
Traditional Faucet Filters
These are the ones that are attached directly to the faucet and most commonly used in kitchens. They are also the most common type of faucet filter and they also remove impurities from the water at the same time altering the taste through making it taste a lot purer and fresher.
Flavored Water Faucet Filters
Once you prefer a bit of flavor to the water, you might try a filter which doesn't only improve the taste of the water but will also add a kick to its flavor. These types would use flavor cartridges that will add fruity taste to the water. It would be like you are drinking flavored bottle water.
Benefits And Drawbacks
And there are numbers of benefits when it comes to the use of best faucet water filter. These are the following:
Cleaner Water: A water filter will remove the minerals that are present in the water and would give a cleaner and odorless water which is a lot more appealing to use and drink every single day.
Great savings: You could indeed get liter after liter of clean and crisp water just for a one off payment which could be used throughout the kitchen, therefore, leading to great savings for a long run.
Convenience: A cleaner water that is also a lot more satisfying, you will more likely to drink and use it on a daily basis. Rather than running around, you could get glass after glass of water only with little to no effort.
No more stains: Through the use of filtered water, you might stain the kitchenware. And stained items indeed do not go unnoticed to most homeowners and this would just remove such small headache with the use of water filter.
Stop filtering whenever you need: Once you want to disconnect the filter as well as its abilities, in most cases only a small button push is needed and the water filter would turn itself off.
On the other hand, there are also numbers of disadvantages or drawbacks that are associated with the use of faucet water filter. Some are as follow:
A water filter would need to be frequently replaced than other filtration systems. It would need changing about every three months but these replacement filters are a bit cheaper anyway.
There are some models that might give a slow water flow so you need to choose the best one.
Prior to buying, there is a need for you to check the specifications of a certain model ensuring that it would fit the faucet you have.
Those are the benefits and the drawbacks once you consider the use of water filter.
Things To Consider
Once into the process of shopping for the best water faucet filter, there are also certain factors that should be considered. These factors are the following:
If your tap water has an unusual taste and strange odor then there is a need for a water filter which would improve the both the smell and taste of the water.
The amount of water needed to be filtered should be considered. Once it is only a small amount every day then it would be better to use a filtering pitcher. A counter-top or the under-counter filtering unit is needed for larger amounts of filtered water. But for the majority of people, a faucet mounted water filter is a great choice.
Since we don't actually know what is in the water, there is a need to consider that the water filter should have the ability to remove the contaminants from the water. The National Drinking Water Database could help in determining the unwanted substances in the water. After that, you could compare the filters and choose the one that excels in the said role.
Being an extension of the water fixture, you might not want to add an eyesore to the kitchen. There are numbers of filters that are available in chrome, white, black, or the brushed aluminum finishes.
Most of the filters should be replaced at least every 2 to 3 months and they are particularly rated by the amount in gallons of water that they could filter. Bear in mind that replacement filters costing the same as the entire unit might not be a great choice.
And finally, most faucet water filters are indeed reasonable in price but the price isn't always associated with the filtering performance. Simply consider a great water filter based on your budget.
Bear in mind the above-mentioned factors once you plan to shop for the best water faucet filter for you to have a safe tap water as well.
How To Install Faucet Water Filter?
In connection with choosing the best water filter from the ones available in the market today, you should also learn how you are to install it. For the steps on installing the faucet water filter, consider the following:
Shut off the water supply. It would be best that you shut off the water valves being located under the sink just to be sure though no water will come out if the faucet is turned off.
Remove The Faucet Aerator
---
The threaded aerator is located on the end of the faucet wherein the water would come out which could be removed. Simply, wrap a cloth around it as for protecting the faucet then loosen it using a pipe wrench and spin it off by hand.
Clean The Seal Or Threads
---
There is a need for you to clean the residue off from the threads which are on the end of the faucet right after the aerator has already been removed.
Ready The Parts And Determine If There Is A Need For An Adapter
---
Ready the parts and determine if there is a need for an adapter. Now, you have to take all the parts out from the package which the filter would come in and lay them on a cloth on the counter that is next to your kitchen sink. Also, you have to take a look at the sink faucet threads and identify the needed adapter piece.
Install The Faucet Attachment Piece
---
There are instructions in the manual that would help you a lot. It will also tell you whether which piece you actually need to thread to the water faucet. Just ensure that you do this without having the water bottle containing the attached cartridge filter.
---
And it's time to attach the water bottle along with the enclosed filter into it to the part that you just threaded on the water faucet. Attach some other needed parts.
---
And finally, test in order to make sure that there are no leaks and so the water flow which comes out is doing so smoothly.
Simply follow these steps as you purchase a new water filter and you plan to install it yourself. Still, the help of experts might as well be considered.
FAQs
Can water filter really improve the taste and quality of the water?
Which type of water filter is great for hard water?
How long should I use a filter cartridge for?
When I install a faucet water filter, will the flow of water be at the same rate?
Pick For The Best
Though there are wide options in the market today and some of the best options are provided below, PUR 3-Stage Advanced Faucet Water Filter stands out from all of them. Why? Well, aside from being one of the best sellers in terms of faucet water filter, there are numbers of reasons why it sits on top for me.
It has great features that every user might be looking for and the ease of use and installation seems to stand out from the reasons why this water filter is considered as the best.
The price of this item is also reasonable enough that many customers could afford to buy.
And the assurance of filtered water is definitely guaranteed by this product.
Stop spending your money on bottled water rather enjoy your own fresh water right from your faucet because of the best faucet water filters. Indeed, they are convenient ways in order to have a clear drinking water once you need it. Simply be guided by this buying guide and reviews for you to come up with a wise and practical decision.
We will be happy to hear your thoughts about the topic. Please leave your comments below and hit like and share too! Happy reading!