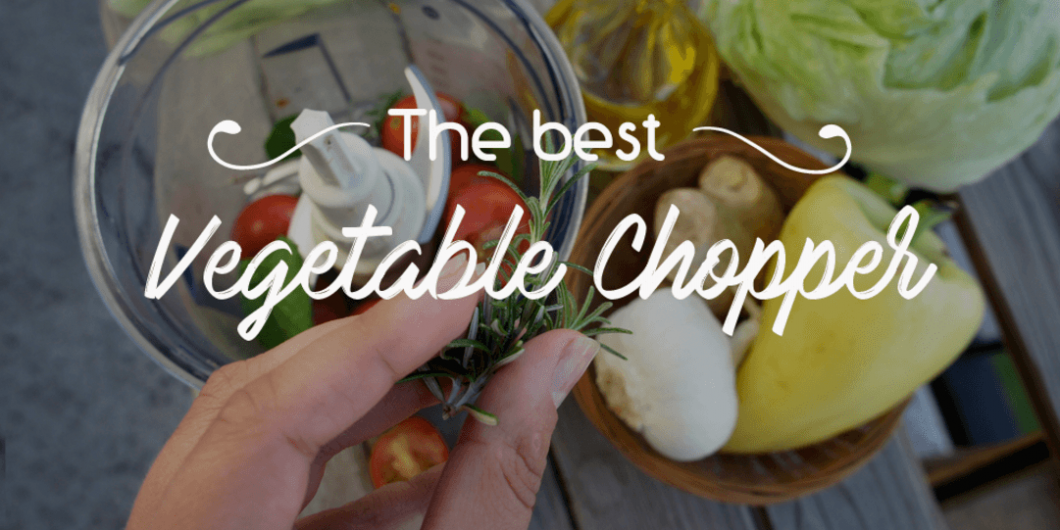 Introduction
Whether you are a professional chef or you simply love cooking, you'll find that having the best vegetable chopper is essential for your kitchen. Different food choppers are made with specific functions. These tools have been gaining in populary all over the globe due to their convenience and excellent performance in doing most food preparation tasks such as chopping, dicing, and mincing.
Finding the best one could be difficult due to the abundance of products on the market. That's why I made this article – to give you all the information you need to choose for yourself. So, continue reading fellas!
The Best Vegetable Chopper You Can Choose From
Product Comparison Table
Here are the products chosen to be the best in the market today:
| | | |
| --- | --- | --- |
| Chef'n VeggiChop Hand-Powered Food Chopper | | |
| Brieftons QuickPull Food Chopper | | |
| Cuisinart DLC-2ABC Mini Prep Plus Food Processor | | |
| | | |
| Proctor Silex 72500RY Food Chopper | | |
Reviews Of The Best Vegetable Chopper
If you're a cooking enthusiast, I'm sure you don't want to miss the reviews of the best vegetable choppers available today. So, here they are!
1. Chef'n VeggiChop Hand-Powered Food Chopper – Best Product for Camping Trips and Small Kitchens
Why is Chef'n VeggiChop Hand-Powered Chopper on the top? It can chop huge pieces of nuts, fruit, vegetables, and ice. If you want to make and store sides and dips, this powerful device could be of great help. It's perfect for small kitchens and camping trips!
If you want to prepare herbs, boneless meats and vegetables like a pro, you should include Chef'n VeggiChop on your next shopping list. It is cost-effective, plus the components are professional grade, robust and durable. It has a lightweight design, so bringing it with you is not a huge burden.
Enter your
Many users, including me, have only good words when it comes to the device's performance. It can handle almost all chopping tasks with convenience and without using electricity. It has a carrying capacity of 3.8-cup, meaning you can stir up a large bowl of salsa, guacamole or any veggies with no hassle.
​

Though, the Chef'n VeggiChop Powered Chopper is not ideal for salads and may not create straight cuts.
text here...
Comes in different colors
Dishwasher safe and BPA free
Can operate with electricity
Has a sealable storage container
Good for making hummus, salsa, dips, etc.
---
2. Brieftons QuickPull Food Chopper – Best Product for Versatility
Compact and powerful with a convenient handheld design – that's what makes our second pick, Brieftons QuickPull Food Chopper, very alluring to consumers. Not to mention, it can slice different vegetables and prepare salads.
Using this chopper, blending and cutting are no longer demanding tasks. You can even make salsa on your way to a special gathering or in the car. Talking about ease of use and convenience!
It features 3-cup capacity allowing consumers to dice or cut a significant amount of ingredients. The sharp stainless steel blade makes a clean cut without brushing or damaging the ingredients, while the machine-washable plastic body is free from BPA. If you love cooking at home, then this device can prove to be worthy of your hard-earned money. Even when camping or traveling, you can always drag this handy device with you.
However, this tool can pulverize tomatoes and may create rough chunks in some situations.

---
3. Cuisinart DLC-2ABC Mini Prep Plus Food Processor – Best Product for Durability and Affordability
Though this tool is not able to knead dough like large food processors can, it can make your chopping tasks easier and quicker, from nuts to apples to zucchini. Aside from that, it can also mash salad dressings and mix small amounts of food into purees. Cuisinart Mini Prep Plus is all about affordability and durability.

The three-cup bowl of this excellent device can be used to create a delicious bowl of salsa, while the blade auto-reverses to make an outstanding chop or grind. With this vegetable chopper, you can chop up puree vegetables, hard cheese or spices, chop garlic, fruit or herbs and prepare emulsified salad dressings or mayonnaise.

It is operated with two simple buttons (grind and chop), plus its components are easy to clean. The blades, bowl, and lid are dishwasher safe. Only rinse them using the dishwasher, and it is ready to be used for your next kitchen task.
​However, this product is noisy and makes inconsistent slice sizes.
Good for grinding, slicing and making emulsified salad dressings or mayonnaise
---
4. Vidalia Chop Wizard – Best Product for Ease of Use and Reliability
Looking for a versatile and reliable food chopper that is easy to use and won't tax your bank too much? Then, I suggest you take a look at what Vidalia Chop Wizard can do to make your chopping and grinding less stressful!

In just a few minutes, this product can help you dice and chop vegetables, cheeses, and fruits into seamless cubes. The tool is durable even though it is made of plastic. Also, it has an easy to use and compact design, a lovely green theme, and a catch container that prevents spillage and wastage and sharp stainless steel disks.

Easy clean-up is guaranteed since the lid is dishwasher safe. What makes the Vidalia Chop Wizard extremely appealing to most homeowners is its cost-effectiveness. So, it doesn't matter if you're on a tight budget because you can still purchase one for your next camping trip or vacation.

The downfall of this product is that it is not the most durable food chopper you can find on the market. It can easily break if you put too much pressure on it.

---
5. Proctor Silex 72500RY Food Chopper – Best Product for Functionality
The Proctor Silex's functionality made it as one of the best-selling vegetable choppers in the market. With it, you can chop up small pieces of graham crackers and meats for your seasonings, herbs, and cheesecakes. It is also helpful for making drinks.

It boasts a brilliant, compact, sleek design, while the stainless steel finish is quite appealing to the eyes. It can seamlessly blend in with any kitchen style. While it looks good on the countertop, it does not consume much space. The components of Proctor Silex are easily removable, which makes clean up and assembly a breeze.

Whether it is chopping or mincing herbs, fruits, cheese, chocolate, vegetables or more, this tool will always make you pop a wide smile. The bowl is transparent so you can see the food being minced and react quickly if something goes wrong. It's perfect for home use and you cannot find any other product that offers such excellent functionality at such a low price.

It is a good small chopper, but the plastic container may get broken easily.

Different Types Of A Vegetable Chopper
As was mentioned earlier, there are different types of vegetable choppers out there that you can choose from. So, let's help you figure out which one you would prefer.
MANUAL VEGETABLE CHOPPERS
AUTOMATIC VEGETABLE CHOPPERS
These choppers are favored by the majority of chefs and restaurants. Why? Well, automatic machines are so efficient when it comes to capacity, speed, and power, making them the best fit for a variety of recipes.
Nevertheless, this isn't just an option for commercial use, but is good for most households who love to make a lot of vegetable meals. Most automatic types are focused on saving time and effort while offering a ton of additional features such as grinding, blending and juicing.
So, Which One Is The Best?
It all comes down to whether you want a high-tech electronic device or a chopper that only needs some workforce to function.
Most of the manual food choppers are available in two models. Typically, the first model could operate similar to that of food processors, with a hand crank or rip cord. Whereas, the second model includes a swinging arm using criss-cross blades. Manual choppers are ideal for campers and other outdoor enthusiasts.
Electric food choppers, on the other hand, need to be connected to a power source to operate. Chopping is done easily, and it's hands-free, with various adjustable options. Safety and convenience are what this device offers for homeowners and professional cooks. Those with hand problems or arthritis can especially benefit from owning it.
So as you see, your decision whether to opt for a manual or electric chopper is based on a few different factors. After all, both can prove to be a good investment. It just depends on what you need.
Benefits Of The Vegetable Chopper
Some consider choppers to be an extra tool in the kitchen and not a necessity, but that shouldn't be the case. In fact, there are several irreplacable benefits to owning one:
First, vegetable choppers could help reduce the prep time for cooking since you can cut a huge quantity of food in one fell swoop. Say for instance, you could put a whole onion in the chopper, and it would be diced with just a push. Or you might have a model which allows you to chop several veggies at a time.
Second, choppers could make the cutting a lot safer since the blades of most models are enclosed which eliminates the risk of any accident. They also improve the cooking quality by making all the pieces equal in size, so they are cooked uniformly and evenly.
Third, vegetable choppers can reduce the amount of food you waste since you cut up and use more of the veggies or food in question. If you chop the food up yourself, you might cut it wrong and have an excess. So, a chopper will eliminate this problem.
And fourth, choppers allow you to make lovely dishes due to thir creative blade designs. You could make pretty veggie platters of food, or you might create a chocolate birthday display that everyone would love.
What To Consider?
It is crucial that you know exactly what you're looking for when buying a certain item. In this section, I will provide you with the information you need to know so you can distinguish the good choppers from the bad ones.
Here are the important factors you need to consider:
Safety and Add-ons
Most vegetable choppers on the market have a ton of built-in safety features, but some extra one sare never a bad thing. You also can't have too much add-ons and extra features. It might be extra blades, hand guard box, or bags. Whatever it is, it makes the chopper more valuable.
How to Use Food Choppers?
Before you buy a food chopper you should, naturally, know how to use it properly. Here are some tips:
1
---
Choose a vegetable chopper to buy. There are two basic types, and each has their variations. Manual choppers are the least expensive ones. Most of them are roughly cyllinder-shaped, and you only need to press down on the top in order to chop the food. They are usually able to chop only a small amount of food.
2
---
Rectangular choppers also exist, with an attachment on the hinge. This attachment has a set of blades that are arranged in squares and once you put an item on the top of the container, simply press down on the hinged panel. The vegetables or foods will be cut into pieces and will fall into the container.
3
---
Now, pick a recipe and assemble the ingredients. Most recipes which require food choppers are those who use fruit or veggies. Onions and garlic are good foods to chop with this machine and even carrots, apples, celery and tomatoes. You might also chop nuts, and you could cut food into bite-sized pieces intended for toddlers. Take note to wash the fruits and vegetables first before chopping them.

4
---
And finally, chop the food. You might only chop a portion of the ingredients at a time. Using a hand chopper, you might only do a handful at once. You need to engage in some experimentation to determine the best amount of food to chop in one go and how to place it into the bowl. When using electric food choppers, this might not matter so long as the items fit into the container.

Safety Tips
Safety must definitely be one of the big things to consider when using a chopper. Safety indeed requires a few simple steps and concentration is the biggest one. We know for a fact that most models feature super sharp blades, right? So, you need to pay attention to what you are doing.
And this includes cleaning too. Be extra careful around the blades if you consider hand washing the machine. For those units that are not covered, you might want to wear safety goggles, and you must always read the instructions before using it.
And this includes cleaning too. Be extra careful around the blades if you consider hand washing the machine. For those units that are not covered, you might want to wear safety goggles, and you must always read the instructions before using it.
Final Verdict
While all of these devices have our seal of recommendation, the Chef'n VeggiChop Hand-Powered Food Chopper is our top pick when it comes to affordability, durability and quality. Another interesting part about this product is that you can bring it with you anywhere. This easy to clean and easy to use product can surely help you save time preparing the favorite meals of your family.
Indeed, having the best vegetable chopper in the kitchen is a great boon. Chopping vegetables and other foods is something that most people do on a daily basis and one of these machines makes that task so much easier and faster.
I hope this article helped you in finding the right tool that will meet all your needs. Don't forget to like and share this post!