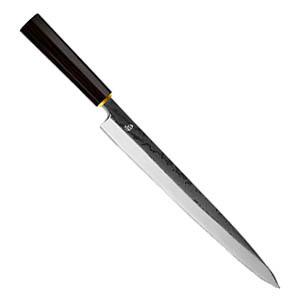 Are you confused like me of all these "strange" sounding Japanese knife names and types? Different blades for different jobs? Are you confused about which cutlery to use for sushi, which one is for vegetables and which one is for chopping meat? There is a special knife for raw fish as well, especially for the ever delicious sashimi.
Don't worry, I was just like you as well, especially before I started CuisineBank. After all, I was new to Japanese cuisine so I wanted to learn it the best way I can so I could start cooking those delicious meals you taste in popular Asian restaurants.
So I took my time to review each of the kitchen knives of their respective categories, try them against the competition and see if any of the popular models edge the competition. Edge. See what I did there?
So let's take a look at what we think are the best Japanese kitchen blades for sashimi, chopping vegetables, raw fish and everything else in between. We took the time to choose the best set as well - if you want to go all in from the get go. Yes, the Kai Shun set is above most people price range - there is no arguing about it. But if you want the best - you have to be prepared to pay the price. You can't have dodgy ceramic blades lying around the kitchen now, can we?
Is the Kai Shun set worth it? I'll let you decide that.
So let's take a look at the Japanese kitchen knives below and see if we can find a winner together. Let's dig in!
1. Best Knife Overall - Kai Shun Classic
If you've red anything about the Japanese kitchen in America and especially anything about Japanese knives, you might've came across the "Shun" name by Kai. It is easily the "Mercedes" of kitchen knives and one of the highest quality Japanese chef knives on the market today.
By being the Mercedes, the Shun is a pretty expensive purchase. It is made of super high quality Damascus steel - a proof of value and durability. The Shun blade is made of the extra hard and resilient to corrosion VG-10 steel, which is the highest grade metal you can find on a blade these days. It is crafted with 16 layers of high-carbon steel to protect the blade and keep it strong and sharp for as long as possible.
Another great thing is that the Kai Shun chefs knife comes with a free lifetime warranty in the USA and you can also get free sharpening whenever the blade gets dull. We're not too sure if that will cover damages from misuse might be, but the Shun had no issues going through bones quick and easy.
The Shun chefs knife is a fantastic piece of Japanese cutlery that gathers praise and positive reviews all over the world. Hand crafted in the USA, Kai offers lifetime warranty, free sharpening and support that it is hard to match.
The Shun chef's knife is well worth your consideration if you're on the market for a high-end Japanese chef knife that promises to stay sharp and strong for years to come. At a price, of course. But we all know there is no such thing as free lunch and you ALWAYS get exactly what you pay for. Shun's product - 10 out of 10 in my book.
2. Wusthof 7" Santoku - Far From A Quality Knife
There are lots of expectations when it comes to the Wusthof brand - quality, durability and overall excellence. However, that's not a all the case with the classic santoku by the company.
For starters, it feels dull from the start. I don't know whether we got a bad knife from Amazon or whether it is something else, but the Wusthof santoku I got to try was nowhere near the standard I'm used to get when it comes to Wusthof.
I tried sharpening it to no success too . It was losing sharpness after just one or two chopping sessions which is something I'm not used to even with a seriously cheap knives. I did some bones with it and it didn't do very well either.
The handle is not that comfortable either - it almost formed a blister on my pointing finger while chopping a bag of red peppers for a big family reunion meal.
So I will not waste anymore words for the particular model since it might've been a fluke with the particular product I received, but I'll wait and see if Wusthof will respond to my enquire about the quality of the blade. Until then - NOT RECOMMENDED AT ALL!
3. KAI Shun Premier - A Great Nakiri
If you're on the market for a quality Nakiri style cleaver for chopping vegetables for sushi, for example, Shun has another great offer for you. Let me introduce the Shun Premier Japanese Nakiri knife from Kai Cutlery.
Just as the Shun's chefs knife, the Nakiri is a fantastic blade for the enthusiast Japanese kitchen chef. As always with the Kai brand, the Shun Nakiri is praised in most, if not all, reviews found online about the brand.
The Shun Nakiri comes sharp out of the box, unlike the Wusthof blade above. Made from Damascus steel and hand hand hammered to perfection, the Shun Japanese nakiri offers lifetime warranty and free sharpening for US customers.
Here is a video of the sharpness of the Shun knife. It can cut through beef easily just by using the weight of the knife, which is super light at 4 ounces nevertheless:
Overall, the Shun Nakiri is another quality offering from KAI that is well worth your consideration. While Nakiris are usually used for chopping vegetables and cutting fine slices of meat, they can be used as a versatile blade around the kitchen - from chopping veggies to butchering cuts of meat and more. The Shun blade comes at a price, but as I said before - if you want quality, you have to pay the price. The Shun is well worth that price.
4. Keemake Professional - An Excellent Deba Knife
The Keemake Deba knife is a perfect edition to your Japanese set for cutting and gutting raw fish and meat. Deba knives are perfect for making raw fish into delicious sashimi. The blade shape and length are perfect for the job.
The Keemake Deba blade is one of the most budget friendly Japanese baldes that is sure to fit more budgets. But don't let the low price fool you - the Keemake is a high quality product.
Made of high carbon German steel the Japanese deba sharpens extremely well, precise and stays sharp for a long time too. The deba is intended for raw fish and poultry so extreme sharpness is crucial for a high performance knife. The Keemake doesn't disappoint.
Reasonable priced, the Keemake Deba feels a bit like a premium knife on a budget. The handle, while ergonomic, is nothing special to write home about. It feels good in the hand and it is well balanced, but it is made of plastic so it feels a bit cheaply.
The blade, however, is very high quality for the price. Mine stayed sharp for weeks at a time and every time it needed sharpening during the few weeks of use it was a pleasure to sharpen. Just a few swipes on the rod and it was good to go.
Overall, the Keemake deba is well worth the price if you need a Japanese chefs knife for fish and poultry. There is a lot of value to be had here so the Keemake is highly recommended.
5. Best Santoku - Yoshiro VG10 Damascus Steel
The Santoku is probably the most used and well versed blade in the Japanese kitchen. It is an alternative to the classic chef's knife and the Yoshiro brand is a worthy member of the Santoku family.
Made of VG-10 Damscus sstainless steel, the Yoshiro is a perfect example of the Japanese steel folding technique that makes this blade as good as it gets. It comes razor sharp out of the box and it stays sharp for weeks to come, no matter the use and abuse you put it through.
The Yoshiro is a quality product made in Japan. It has the look, feel and make of a premium product for a very good reason - it is one. The wooden handle feels great in the hand and it is ergonomic enough to protect your wrist during prolonged use.
The handle, while wooden, never feels slippery or weak. It feels just perfect in my somewhat large hands but it might feel a bit too thick if your hands are a bit on the smallish side.
Overall, the Yoshiro Santoku blade is a superb product well worth the price. The layered stainless steel look might not be to the taste of everyone, but I find it quite striking. Made of the highest quality Damascus steel on the market, the Yoshiro ensures quality and durability for the years to come. Highly recommended Japanese chef knife for the picky home chef.
6. Best Gyuto Knife - Misono UX10
The UX10 is the high-end collection Gyutou from Misono - a staple name in the knife and blade industry. Made from high-carbon Swedish steel, the Misono Gyotou is the most universal Japanese chef knife on this review.
Ideal for chopping, slicing and anything in between, the Misono UX10 is the ideal kitchen companion. Don't let the basic looks of the UX10 fool you - it is a wolf in a sheep's skin.
The blade comes already sharpened from the box so be careful unpacking - it is super easy to cut yourself - that sharp it is. It stays sharp reasonably well too - I've had the UX10 Gyutou for a little over a month and it never felt dull. I've put it to good use too - it never failed and I didn't have to sharpen it either.
The handle feels comfortable enough, but not really in the league of the Yoshiro above. It is made of plastic and you can tell it the moment you touch it. It is not uncomfortable or anything like that, but I feel that it would be nice to get a good wooden handle for the price.
Overall, the Misono is a proper Japanese blade, made of quality steel that is well worth your consideration. While plastic, the handle is comfortable for prolonged use and I never felt tired while chopping onions and mushrooms for a big family event. The Misono UX10 is the best Gyuto I've tried and I've tried plenty during these review series.
7. KAI Wasabi 4" - Great For Pairing
That was a tough process - choosing the best Japanese pairing knife. So many options and so many quality blades that it was really hard to get a knife that stands out. That was, of course, till we tried another offering from KAI cutlery - the excellent Wasabi pairing knife.
Yes, you read that correctly - the same KAI that makes the Shun blades, one of the best in business. The Wasabi is their somewhat budget line, but don't let that fool you - the overall quality of the blades is on par with the Shun series, but with a more budget friendly handle and craft.
The Wasabi pairing knife features a simple, but comfortable black plastic handle. There is nothing ergonomic about it - just a simple plastic cylinder, but comfortable one nevertheless. I've put it to good use and it never felt wrong in my hand - even after decorating veggies and fruits for hours.
Reasonably priced, the Wasabi pairing knife is made from a quality high-carbon steel, but not really in the league of the folded Damascus metal found in the Shun blade. In the matter of fact, Shun has a great pairing knife as well, maybe even better than the Wasabi series, but I don't really thing it's worth the price. It's almost four times more expensive than the Wasabi and it doesn't feel four times better, to be honest, although it does feel more premium than the Wasabi blade.
Overall, it is a great budget Japanese pairing knife that gets the job done. While there are better options out there, I really feels that the Wasabi nails the perfect price/quality ratio for a pairing blade. Highly recommended for anyone needing a small pairing knife.
8. TUO Yanagiba - Great For Sushi And Sashimi
The TUO Yanagiba is perfectly crafted piece of art. From the very moment I opened the box that it came with I knew that was going to be a quality product. The TUO didn't disappoint either.
Made from 34 layers of folded Damascus steel, the TUO Yanagiba is the perfect Japanese knife for sashimi. Razor-sharp from the very beginning, slicing raw and smoked fish and meat is a piece of cake. The TUO feels just right in your hand and it is a real pleasure to use.
The handle of the TUO feels perfectly balanced. While it doesn't have any real ergonomic properties, it feels just right in the hand. Made from real ebony wood, it doesn't get slippery when wet unlike most plastic handles.
Overall, the TUO Cutlery Yanagiba is the perfect knife for sushi/sashimi preparation. Ideally balanced and razor-sharp, the blade cuts meat and vegetables with ease and precision. It feels beyond premium and the price is too low for the quality of the blade. Highly recommended.
9. Dalstrong Shogun - An Excellent Yanagiba
Here we go with another Yanagiba blade, this time made by the ever so popular Dalstrong brand. It feels just as quality as the TUO above, if not better. Let's take a closer look at the Dalstrong Yanagiba blade.
The Dalstrong's Yanagiba blade is forged from a single piece Japanese stainless steel - high-carbon AUS-10V. It is a premium material that very few knife blades have. It is a single bevel utility knife - ideal for cutting up fish and meats for sashimi.
The handle feels just right, although the TUO's blade feels much better, to be honest. The balance is just right, but the TUO's realy ebony blade is a work of art. I can't really say the same about the Dalstrong, to be honest. Of course, the price reflects that, but the TUO is definitely better value for money than the Dalstrong.
The blade being a single bevel makes it perfect for cutting raw fish for finely crafted Japanese meals like sashimi, for example. Some users reported that they received double bevel blades, but that was not the case with the knife I received.
The Dalstrong Yanagiba from the high-end Shogun series is a worthy contended for the best Japanese yanagiba - it is priced right, the quality is there, but there are bette products out there, if I have to be brutally honest. I've tried plenty of Dalstrong knives when doing the knife reviews and they never really stood right with me. It just feels that they are pushing for higher quality than they actually are. I might be wrong, but something is missing from the brand itself. However, that's just my own personal opinion.
Overall, it is decent Yanagiba price accordingly. It is a beautiful knife with a non-stick surface for non-sticking veggies and fish cutting. I wish I could recommend it more, but I feel the TUO Cutlery product is a better buy for a similar price.
10. Best Block Set - KAI Shun 10 Piece
Last, but not least, is by far my favorite set of Japanese kitchen knives - the Shun 10 peice set from KAI Limited. I've had and reviewed a LOT of knife sets over the years, even for this review series I went over ten different sets and tried them all.
As you might've noticed already, KAI products, both Shun and Wasabi, are always on my favorite lists. There is a pretty good reason for that too - I love the quality and the feel of both Shun and Wasabi. I feel like they are super quality product sold for a very reasonable price. Yes, the price might seem high, but the quality in on par with the best of the best out there, and the price is just right too.
But enough of that - let's take a look at the Shun's ten piece kit. You get the following knives:
3.5" Paring
6" Utility
8" Chef's
5.5" Santoku
6" Boning/Fillet
8.25" Offset For Bread
9" Hollow-Ground Slicing
Kitchen Shears
Combination Honing Steel
Bamboo Block
As you can see above, the Shun Classic Ten Piece knife set is a fantastic offering from the KAI subsidiary company. Shun are some of the best rated Japanese kitchen knives in the industry and you usually get a ton of value for the money.
There is no question about it, the Shun Ten Peace Set is pretty expensive. I'm not going to beat around the bush - you can't really find it below the 500 dollars range anywhere. If you do - grab it while you can. Getting the kit together individually will cost more for sure and it might take some doing as well, since some of the kit blades are not really available individually.
Overall, the Shun knife block set is a superb piece of kitchen gear, but it comes at a price. It is indeed one of the highest quality Japanese stainless steel knives set on the market, on par or better than far more expensive high-end gear. It is a real pleasure to use and even bigger pleasure to own, you can trust me on that one. Of course, if it well out of your price range, there are some decent alternatives, but the Shun is WELL WORTH the price in my opinion.
Frequently Asked Questions
Making a standardized list of the Japanese kitchen knives is an immensely challenging task simply because all kitchen knives are not created equal. In other words, a Japanese knife that you find eminently handy may not be so for somebody else.
The effectiveness of a typical chef's knife beauty varies from person to person, and invariably depend upon the manner you hold the tool, your hand size, your grip type and the specific purposes you'll use it for. Beware of the fact that nowadays you'll come across several cheap Chinese knock-offs claiming to be a true Japanese blade, especially ceramic, but that couldn't be further away from the truth. Chinese And Japanese knife types are quite different in comparison, and to be honest that's why I decided to create this review comparison - to help you buy a properly good knife for the best price possible on this ever changing market.
Though the 'made in China' blades are produced using more or less the same manufacturing process that premium brands of Japanese knives use, they still happen to be inferior compared to the latter. The cheaper Chinese brands use low-quality materials and do not adhere to stringent quality control methods. The sharp edge doesn't hold to prolonged use either, doesn't sharpen as well and it doesn't stay sharp as long as a proper folded Damascus steel, for example.
What Are The Main Differences Between Japanese and Western Knives?
Japanese and American/European kitchen knives are quite different in design and general purpose too. Before we dive in to explain those difference we need to note that the two types of blades were developed for two quite different types of cuisine.
European and American utility knives are designed to cut with ease through denser and thicker food. Beef and pork meat are the staple of American and European cuisines so you generally need thicker, heavier and sturdier knives in general.
On the other hand, Japanese and the general Asian cuisine consists of lots of fish and lighter, thinner vegetables in general and that's the beauty of it. Of course, that is a general oversimplification of things, and you shouldn't quote me as a last instance on the question. But in general, Japan and other Asian cultures need a finer, thinner blades for more precise slicing of less dense and thinner foods like fish and soft fruit and vegetables.
Most Western chef's knives are thicker, heavier blades with 40 degrees total blade angle and sharpened to a thicker, more robust 20 degrees facets.
Most Japanese kitchen knives are thinner, lighter, more delicate blades with 30 degrees total edge angle and sharpened to a thinner, more precise 15 degrees facets.
Of course, there are specialty cutlery from both sides that deviate from the rule, but that's valid for ever type of cutlery out there. The biggest difference, besides the distinctive shapes, is the weight, the thickness and the edge angles between Japanese and Western knives.
Let's take a look at the most important features to look for when choosing the next blade for your kitchen. It is crucial to define your needs before proceeding further. The better informed you are, the better choice you can make for you particular needs.
Best Blade Metal: High-Carbon or Stainless Steel?
The most important thing that you should first take into consideration while selecting your blade is the hardness of the metal or to be specific, the quality of the blade. Blades chiseled out of the best grades of high carbon steel and stainless steel tends to be the hardest which naturally makes them the highest quality as well.
High Carbon Steel
High-Carbon steel is generally much better than anything else if you want to achieve the best quality and the sharpest possible edge. Steel that has a high carbon content is usually much harder than stainless. The traditional Japanese steel called Shirogami is the highest quality and the most pure steel you can find on the market. Aogami steel is the second best, but it is not as pure as the Shirogami and it might have some alloys added to it as well.
All Japanese carbon steel has a HRC hardness of over 60, while Shirogami #1 and Aogami #1 tend to be 65 and over.
This purity and the superior hardness of the high carbon steel makes it an ideal metal for professional Japanese chef and kitchen knives which need better edge sharpness and the retention of this sharpness over time. Interestingly enough, high-carbon steel is not as tough to sharpen as people think - it is quite easy, actually, on par with the best out there.
The only downside of high-carbon steel is that it is susceptible to the elements and it can get rusty quite quickly. High carbon blades usually require finer attention to detail to maintain them. Most, if not all, are not dishwasher safe and you only have to wash them by hand. Quality oils are a must as well if you want to keep your precious blade in top notch condition.
Stainless Steel
Stainless steel is very different from high-carbon when it comes to blade material and sharpness of the utiliy knife. While some of the stainless metal has HRC sharpness of 60+, like the ZDP189, for example, it is much harder to sharpen and maintain that sharpness in non-commercial environment compared to high-carbon steel.
While it is definitely inferior than high-carbon, stainless steel is much more convenient and easy to use, especially at home. I, for one, don't really like washing cutlery by hand and I much prefer to toss them in the dishwasher and even keep them there overnight from time to time. You can't really do that with carbon steel as it requires lots of care and attention in order to maintain it in tip-top shape.
The most popular stainless steel metal in Japanese cutlery is probably the VG10 steel. It is as close to high carbon as possible with around 60-61 HRC hardness. It is hard enough to allow a good edge sharpening that will hold sharpness reasonably well. There is a reason the VG10 is so popular - it is a great material that allows reasonable sharpening and durability of the blade without any rust compromises.
What about Damascus steel?
Damascus steels is a more of a technique of making the metal rather than the actual meta itself. It is a layered blade made of both hard and soft steel, taking the best of both world into a unique blade. It is usually made by folding the blade, removing any impurities in the metal in between.
Damascus knives can be made by both high-carbon and stainless steels so it is up to the manufacturer of the actual blade which one to use. Depending on that choice a Damascus steel knife can either rust or not. There is no definitive answer to the question whether Damascus steel rust or not - it depends on the individual product.
Damascus steel kitchen knives usually sharpen well and tend to hold their sharpness for a while. Most of the Damascus blades on the market today are not a true steel made in Damascus, but rather use the reference for marketing purposes or pay tribute to the legendary material know form the early centuries.
Handle Quality and Materials
Most high-end Japanese blades benefit from a high-end handle too. While simple plastic might be fine for most, you can't really slap a cheap plastic handle to a work of art steel blade. It just doesn't work.
High quality wood, like mahogany, for example, is a prime candidate for a worthy companion to a high-carbon Shirogami #1 blade, for example. Finely crafted wooden handle is a compliment to any good Japanese knife.
If you are trying to stay within budget it is acceptable to opt in for plastic handle, but make sure it is a quality one. A good utility knife handle doesn't slip when wet and it shouldn't be uncomfortable after prolonged use.
Tang or Blade Projection to the Handle
The manner in which the Japanese's blade is attached the handle is called "tang". Some blades are 'full tang' while others are 'push tang'.
The blade of a full tang Japanese knife goes through fully through the handle almost ending at the edge.
On the other hand, the blade in a push tang chef's knife is wedged inside the handle up to an extent, and hence there is always the risk or possibility of the blade coming loose.
Nevertheless, the tang factor is usually not a matter of concern when it comes to picking a good piece of cutlery. Premium brands are constructed robustly where the handle and the blade are soldered jointly to form a compact and solid, reliable unit.
Blade Bevel: Single or Double?
You must have noticed that some blades have their cutting edge either on the left or the right side of the blade while others have bevels on both sides. The cutting edge, or to be precise, the angle or inclination of the edging is called the knife's bevel.
European and American knives tend to be beveled on both surfaces of the blade whereas Japanese knives generally have the bevelling only on one end (the right-hand size in most cases).
Single-edged knives come in very handy for paring and slicing veggies, fish and meats into super-thin or matchstick cuts whereas double-edged ones are meant for general-purpose use.
Nowadays, most Japanese knife models that are on the market are dual-edged. However if you think that a single-edged knife will serve you better and it is part of the classic Japanese tradition, make sure the cutting edge is always to your right when choosing a single bevel chef's knife.
Cladding
Cladding signifies that the blade has a core made of carbon steel and sheathed in a wrapping of stainless steel. The only worthwhile benefit of using a cladded or encased utility knife is that you don't have to worry about its maintenance as the outer layer of material offers sweeping protection to the core layer.
That's usually the case when companies want to add some elasticity to their blades. The outer layer of a softer material can really protect the harder inner core of a more quality hard steel.
The good quality Japanese kitchen knives have triangular-shaped blades that are usually 8-8.5 inches long. However, you may want to try a knife with a shorter blade if your hands are small.
Nevertheless, in order to make the most of a chef's knife, it is suggested to settle for a knife with an 8-inch blade.
Different Types Of Japanese Kitchen Knives Explained:
As you might already have an idea about which blade is which and when to use them, I'll try to clear the air a bit more into detail about what type of knife you need for different cooking scenarios and when to use what. Let's dig in.
Prime example - the Shun Classic blade. Close resemblance to the classic European chef's knife that has versatile use around the kitchen.
2. What Is Nakiri Knife And What Is It Used For?
Nakiri is the Japanese vegetable knife. It is perfect for chopping large quantities of veggies as well as meat and fish. It is a bit heavier than most and can be used as a cleaver as well when needed. The Nakiri's weight is making it ideal to cut through thicker bodied vegetables like butternut squash and pumpkins.
3. What Is Santoku Knife And What Is It Used For?
The Japanese Santoku is probably one of the closest things to the traditional American chef's knife that Japan can offer. Santoku actually means a knife of three virtues. They are the perfect ability of the Santoku to cut meat, fish and vegetables equally well. The Santoku has a sharper, more even edge than traditional knifes and it is not really intended for the rocking type of copping fine veggies. It is perfect for up and down chopping and it has a bit of a taller blade than most Japanese cutlery.
4. What Is Deba Knife And What Is It Used For?
The Japanese Deba is the perfect knife for butchering raw fish and even poultry. It has a bit heavier blade than most Japanese knives in order to make cutting meat easier. Usually single bevelled, but you can find them in different sizes and bevels depending on the purpose of the knife.
5. What Is a Gyuto Knife And What Is It Used For?
The Gyuto is another knife that is a close relative to the traditional European chef's knife. It is much closer to it than the Santoku, which, while still versatile, it is a bit more specialized than the Gyuto.
Gyutou, in direct translation, means "beef" knife. It is a Japanese knife that can be used for most kitchen task needed for the modern cuisine. It is lighter than the western chef's equivalent and it is made of much harder steel too, usually Shirogami or VG10 in the stainless variety. It is a GREAT multipurpose knife that sharpens extremely well and holds its sharpness very well too. It is my personal choice for most tasks around the kitchen.
6. What Is a Pairing Knife And What Is It Used For?
The pairing knife has probably the smallest edge than most on this review and it is generally used to help peel fruits, slice small fruits and veggies and to decorate them too.
It is a pretty simple blade mostly due to its size, but it has to hold sharpness well due to the nature of the work it is used for.
7. What Is a Japanese Yanagiba And What Is It Used For?
The Japanese Yanagiba knife is the most popular blade to use for sashimi and sushi. It is a long, thin blade used for the long, drawing motion of cutting up incredibly thin slices of fish and krudo specifically made for and sashimi.
The Yanagiba knife has more often than not a single bevel edge making it incredibly sharp. The Yanagiba is usually the sharpest knife in the Japanese cuisine and are usually made of the highest grade high-carbon steel available.
Final Words And Recommendations
I really hope this article helped you make a better informed choice about your next Japanese kitchen knife. While I do understand that most people needs are different and different kitchens might need different knives, most Japanese blades are as perfect as a blade can be, especially in comparison to most western equivalents.
If you are on the market for a new knife set, I can't recommend the Shun's Classic 10 piece set enough. It is one of the most durable and well made cutlery sets on the market. While it might outside most people budget, the Shun's box set will probably last a lifetime, if not generations if taken care properly.
If you are on the market for a classic Japanese chef's knife I would set my eyes on the either Shun's Classic chef blade, the Gyuto or the Santoku we have on review here. All three choices are great versatile blades made of high quality steel that will not let you down. As close as the traditional western chef's knife, the Gyutou might be your best bet, but the Shun's edge is just as sharp and just as hard as any chef's knife on the market today.
I really hope I helped you out and if I did, I'd love to hear it on the comments below. If you have any suggestions about another blade worthy of consideration I'de love to hear from you about it too!