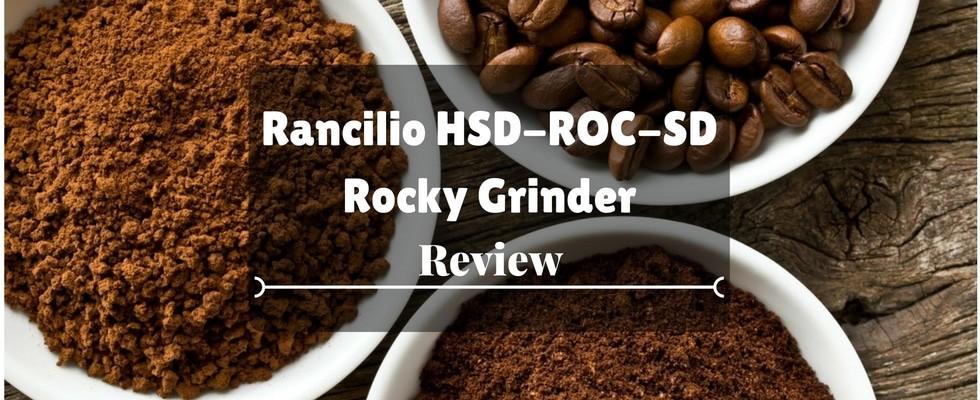 Introduction
If you want to rise and shine every day by brewing your coffee ground quickly and efficiently with just the right proportion of fineness then, Rancilio HSD-ROC-SD Rocky Grinder is an ideal addition to your home coffee making setup.
Rancilio is the most commendable brand in my whole family. This Italian-made stylish grinder with solid construction and remarkable performance offers you as much control as you need for a perfect grind. It uses high-end coffee-grinding technology and hence, preserves the maximum aroma giving you the original coffee taste. Its price is fairly reasonable for the excellent features and optimal working.
Features & Functionality of Rancilio HSD-ROC-SD Rocky Grinder
Rancilio is one of the most popular brands in commercial quality coffee making machines and grinders. This SD model under review is a doserless version of the Rancilio Rocky burr grinder. Let's have a look at other significant features of this wonderful machine.
Design and Construction
The overall design of this electric burr grinder is a sleek, elegant and heavy duty. From a construction perspective, I found this model quite sturdy and easy to assemble, manage and operate. The back is of stainless steel while the front is made from black metal enhancing the durability quotient.
The 50mm flat stainless steel burrs of commercial grade with 166-watt direct drive, powerful motor (spins at 1,725 RPM), generates less friction and hence prevents heat build-up while grinding. This means it will not burn your beans even if you grind for long.
Dimensions & Weight
This doserless grinder weighs 15.4 pounds with fairly suitable dimensions (9.8 x 4.7 x 13.8 inches). You can easily place it anywhere in your home, office or shop's counter. But, I won't recommend it for small kitchens.
Multiple Grind Settings
Rancilio HSD-ROC-SD Rocky Grinder offers 55 ways to grind without imparting extra heat during the process.
Bean Hopper Capacity
The grinder comes with a compact bean hopper. This blue tinted hopper gives your beans UV protection. It can easily hold up to a half pound (8 oz.) of beans, and lifts off for stress-free cleaning.
Benefits of Using Rancilio HSD-ROC-SD Rocky Grinder
A buyer pays for the benefits of a product. This electric burr coffee grinder will deliver you the ease of use along with the enlisted below advantages that no other less expensive girder can give you ever.
This grinder provides all coffee styles from French Press all the way down to espresso.
It can go with a lot of coffee machines just like offering you a range grinds for different types of coffee.
​Its compact hopper, made of blue-tinted plastic protects the coffee beans from ultraviolet rays.
​The push buttons and the grind dial provides you the comfort of smooth operation.
High quality smoked plastic is used in the manufacturing of chute/dispensing beak and the bean hopper.
Its heavy duty motor will not slow down even if it undergoes the most demanding workload.
You can easily see through the transparent hopper, though it's tinted, and monitor the level of beans added to it.
The effortless removal of the hopper and burrs provides the ease of simple cleaning and maintenance.
The button release system fixed on the grinder's collar, close to the hopper, is simple to use.
With simple twists of the grind dial and ultra-fine threading of burrs allows you to enjoy the versatility from espresso to French press brewing, and all types in between.
It has a thermal protection device installed that shuts it down upon overheating and prevents motor and grinding mechanism from damage.
Pros
Durable with great functional reliability
Well-designed and smart looking
​User-friendly with simple controls
​Grinding abilities are second to none
Easy adjustment for any ground type.
​Incredibly easy to access the burrs
Offers quiet and cool operation
​2 Year Limited Warranty
Easy to clean and maintain
Cons
Some coffee grinds may leave in the hopper and chamber. This is very much common in almost all types of economical to expensive grinders and therefore, not a big deal to worry about.
While grinding, you may not be able to change the grind adjustment for finer or coarser settings. It's pretty difficult. So, always set the accurate grind value in the first place or you may need a second hand to help you with it.
Tips to consider while using Rancilio HSD-ROC-SD Rocky Grinder
If it shoots too slow, say more than 20 seconds, you will get extremely fine grind. Adjust to a bigger grind number on your SD Rocky.
However, if it shots too fast or you can say less than 18 seconds, then your grind will be too coarse. This means you need to adjust the grind to a smaller number on your rocky.
Conclusion
The Rancilio HSD-ROC-SD Rocky Grinder is for coffee lovers with an open budget. This best quality grinder with premium features and excellent performance is a remarkable choice both for private and commercial use. Get it now if you are looking for better control over grinding.
Give your kitchen a neat and awe-inspiring look with this well-built and deluxe electric burr grinder for all coffee styles.