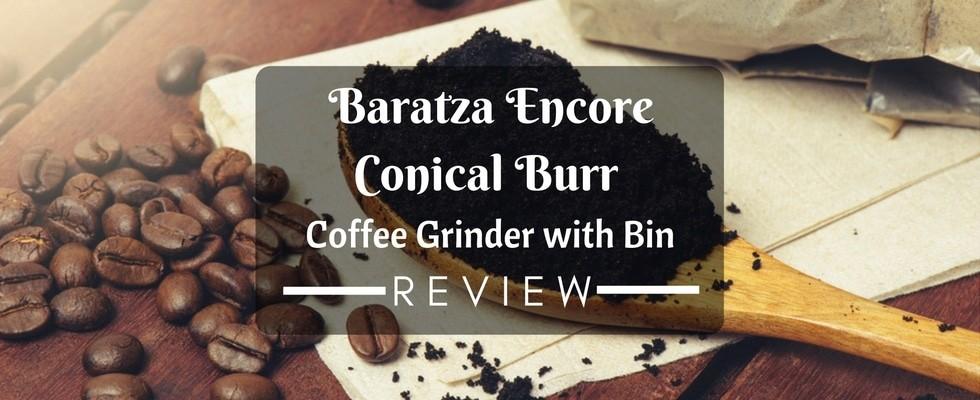 Introduction
If you are a coffee addict then having a high-end grinder is your home's must-have commodity. Once you have had a reliable and economical coffee grinder you cannot go back. One of my friends gifted Baratza Encore Conical Burr Coffee Grinder with Bin for Christmas, I loved it so much that I gifted my sister one right away as her wedding anniversary was approaching.
Baratza Encore is a highly praised grinder amongst coffee experts. The conical burr grinder under review is a go-to entry level product for brewing coffee of any type at home. It gives great grind to make your coffee-drinking experience more memorable.
Features & Functionality of Baratza Encore Conical Burr Coffee Grinder with Bin
The best thing I love about this grinder is the rock-solid feel I always get on moving or using it. Moreover, the value-added stability is simply matchless for the price. Let's have a look at key features of this superb grinder.
Burrs
The Encore has 40 mm conical burrs of hardened steel that can grind for different coffee styles. These burrs exceptionally produce consistent grind and are good for grinding about 500 lbs. of coffee prior to your need of its replacement.
Dimensions & Weight
This conical burr grinder in solid black color weighs 6.8 pounds with pretty good dimensions (7.5 x 7 x 14 inches) for easy placement and movement anywhere in your home or office.
Gear Box 2.0
The 2nd generation gearbox is embedded in the Baratza Encore that helps minimizing the noise and makes this machine more durable in the long run. It also increases the strength factor of the drive transmission.
Grind Tuning
With 40 adjustable grind settings (from extremely fine to fine, medium, coarse and whatever size you need in between the four) you can get a perfect grind for French press or any other coffee type. You can grind from 250 up to 1200 microns with quick adjustments with an easy turning of the hopper.
Grind Capacity
The grinder's hopper capacity grinder is 8oz (227 g) while capacity of the grounds bin is 5 oz. (142g)
Grinds Left in Grinder
The Baratza Encore can grind left that helps maximizing the freshness
Time Controlling Options
An on/off knob on grinder's side and the pulse button on its front are the only ways to control your grinding intervals.
Benefits of Using Baratza Encore Conical Burr Coffee Grinder with Bin
Enlisted below are the primary benefits of this outstanding grinder that would certainly help you with the purchase decision.
This conceals burr grinder from the house of Baratza durable, reliable and affordable.
It is easily adjustable for any type of coffee ranging from French press to Turkish grind.
​You can use it even with the traditional espresso machines; pressurized or non-pressurized systems.
​The upgrade gear box works on 450 RPMs and decreases the noise.
You can easily use and maintain this grinder offering you consistent grind as per your choice.
​The DC motor efficiently keeps the coffee beans cool enough to avoid their possible burning especially during the extended grind times.
The high-performance electric and gear speed reducers slow down burr speed up to 450 RPM. It eventually decreases the noise, heat and static buildup.
You can smoothly go with the bean feeding process because the reduced RPMs.
The burrs installed in this grinder are durable and for many years, you can enjoy their sharpness resulting in a great grind.
Front-mounted pulse button on this machine provides the ease of on-demand grinding.
A DC motor used in this grinder produces high torques hence smoothly drives the burrs.
The circuitry is equipped with an
The thermal cutoff and automatic resetting switch used in the circuitry adds great value to this grinder.
For additional capacity, you can use this grinder with the bean hopper extension by Baratza
Pros
Reliable and Affordable
Well-Built, sturdy Design
​Adjustable Grind Settings
​Gives Consistent Grind
​Easy to Clean & Maintain
Safe and Quiet
​Less static buildup
1 Year Limited Warranty
Safety Listing: UL/CSA/CE/EK
Cons
This is the slowest of all machines of its class. Moreover, it does not come with the portafilter holder necessary for espresso. However, these are not big issue to fret about because for the other features and price, this grinder is simply matchless.
Tips to consider while using Baratza Encore Burr Grinder
Follow the tips below for the safer use of this amazing coffee burr grinder for French Press.
Assemble carefully and perfectly fix all components.
Before using, ensure that it's cleaned and ready to operate.
​Place on a balanced surface before using.
​Do not exceed the standard capacity of the ground container.
Do not use if any part is loose or damaged.
​Keep checking the components for repairs/replacements.
Keep it clean, well-maintained and out of kids reach.
Conclusion