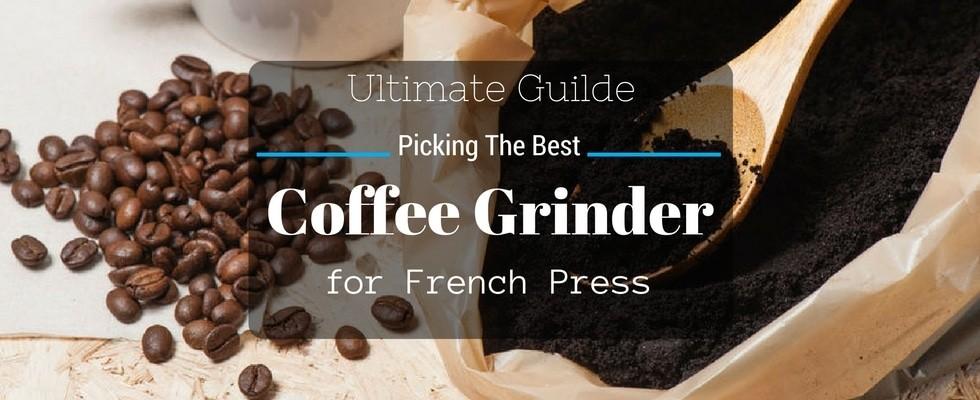 Many of us cannot even imagine starting a day without a cup of coffee. A morning filled with a hot, steamy and brewing scent of coffee is a 'good morning' indeed. You surely agree too. You do not need to dedicate a lot of time or effort to feel the bliss of having a finely ground and brewed, fulfilling cup of coffee. I can assure you that the best coffee grinder for French Press will allow you to have exceptional coffee which will provide you with an energy burst for the entire day.​
Why You Need A Coffee Grinder For French Press?
If you want to stay loyal to tradition, then French Press is surely the best option for you. It is a perfect choice for all the lovers of traditional coffee as it allows them to brew a high-quality, rich coffee quite simply If you want to enjoy this simple beauty and unique taste too, always use French Press coffee grinder to crush fresh coffee beans and release their full flavor.
So, French Press coffee is a daily pleasure. Coffee fanatics like me enjoy making great coffee themselves. If you are also the one, then you need to know what grinders are the best choice. You need to select and buy a coffee grinder for French Press with care and, of course, in accordance with your budget.
---
My Picks: Top 3 Best Coffee Grinder For French Press
There are plenty of coffee grinders available on the market to choose from. We have searched among some popular grinders from renowned brands and looked for the best offered prices. 
Capresso 560.01 Infinity Burr Grinder, Black
---
16 adjustable grind settings
Dimensions: 14.6 x 9.6 x 7.8 inches
Item Weight: 4 pounds
1-year limited warranty
My rating
Rancilio HSD-ROC-SD Rocky Grinder
---
55 grind settings
Dimensions: 7.6 x 7.1 x 12.5 inches
Item Weight: 15.4 pounds
2-year limited warranty
Baratza Encore Conical Burr Coffee Grinder with Bin
---
40 grind settings
Dimensions: 9.8 x 4.7 x 13.8 inches
Item Weight: 6.8 pounds
1 Year Limited Warranty
---
What To Consider While Making A Purchase Decision?
As a coffee grinder buyer, you should consider the following important factors:
Types Of Coffee Grinder
You can choose either a blade or burr grinder. Moreover, you can choose between high-speed and low-speed grinder, manual or electric one, or a grinder with stepped or stepless adjustments. You can also opt for the coffee grinder with a gear reduction or direct drive with a high-quality motor. Baratza Encore and many of Capresso grinders are the best options available on the market at reasonable prices.
Reason Why It Is Important
Types of Grind for Different Brewing Methods
Your Preferable Brand
The market is flooded with a number of brands offering good quality grinders. For instance, you can buy your coffee grinding machine from well-regarded manufacturers such as Baratza, Breville, Capresso, and ASCASO or any other you like the most.
Available Budget
The depth of your pocket will dictate what type of grinder you can buy. Good quality grinders often come hand in hand with high price tags, but with little market exploration, you can find the more affordable grinder that fits both your budget and expectations. Opt for reasonably priced grinders, but, do not compromise on quality. If you can afford to spend a huge amount of money, then choose an expensive brand such as ASCASO or Rancilio.
The Best Buying Method
If you go to a retail shop, you can see the grinder yourself, and the salesperson will also be there to guide you and show you all the available brands and models. Visiting an online store and placing your order online will, on the other hand, save your energy and time. The choice is yours to make!
What Else To Look For?
You need to ask yourself what features you need to have and want to see in the best coffee grinder for French Press.
Private or commercial use?
A grinder with burrs or blade?
Conical or flat burrs?
​Stepped or stepless grinder?
Manual or automatic?
​Original or refurbished?
Low, medium or high priced?
​With or without a timer?
With or without warranty?
Heavy or lightweight?
How often you need to grind?
How easy is it to clean and maintain?
What accessories are included in the price?
---
Check Out My Short Reviews Of Top 3 Best Coffee Grinders For French Press
Capresso 560.01 Infinity Burr Grinder, Black
16 grind settings
Stainless steel material
Built-in timer (can be set for 5-60 seconds)
Safety lock system for the bean container.
Bean hopper capacity is 8.5 oz.
Grounds container capacity is 4 oz.
100-watt gear reduction motor with 450 RPM
Black in color and weight 4 lbs.
Dimensions: 14.6 x 9.6 x 7.8 inches
If you are on a budget, but still want to buy a good quality, reliable coffee grinder, then this model is surely the best option for you. It's the best burr grinder for French press I have ever used in my life.
Besides being affordable, this beautiful conical burr coffee grinder comes with a built-in timer. Only a few grinders that you can buy with a low budget come with this feature. It is a great feature that you will surely appreciate.
---
Durable and Affordable
Delivers consistent coarse grind
Quiet operation
Well-built
Easy to clean and maintain
16 adjustable grind settings (good results with around 13 of them)
Low-speed motor - slow grind ( prevents coffee from burning and, at the same time, preserves its real flavor)
You may find it complicated to assemble the machine at first. But, follow the manual carefully, and you will do it for sure.
Leftover grounds are another problem of this machine. You can try to tap or shake the unit to remove some, but in our experience, you have to clean it after each use.
None of these problems are grave enough to deter you from getting this rather economical grinder. All you need is a little effort to operate and manage it the right way.
The Vedict
Amazon consumers call it a great grinder that does an amazing job. You can also get one in stainless steel or brushed silver color.
It is one of the best-selling products and comes with 1-year warranty. The safety lock system is simply the best. Its elegant, enduring and user-friendly design and easy cleaning make it a must-have grinder for both private and commercial use. You will not find such an amazing combination of components in any other product at the same price range.
---
Baratza Encore Conical Burr Coffee Grinder with Bin
40 grind settings.
Grind speed: 1.1 g/s.
Bean hopper with 8 oz. capacity.
Collection bin with 5 oz. capacity.
Front-mounted pulse button.
Adjustable speed (405-495 RPM)
Black in color with 6.8 lbs. weight
Dimensions: 7.6 x 7.1 x 12.5 inches
If you want to do your taste buds a big favor by presenting them the original French Press flavor, you should opt for this average-priced Baratza grinder. From design to functioning, this conical burr coffee grinder by Baratza appears analogous to Capresso. But, its biggest advantage, when compared to Capresso Infinity, is the minimal amount of loose grounds left in the container after use.
The low-speed motor installed in this unit will provide you with a slow grinding process which prevents accidental burning of the coffee beans, and perseveres the French Press flavor.
---
Compact design
Reliable
40 grind settings (start at 24 for French press)
Good control of the grind size
Delivers more uniform grind
Minimal leftover grounds
No need to clean the unit daily
Simple use, easy cleaning
You may find it complicated to assemble the machine at first. But, follow the manual carefully, and you will do it for sure.
Leftover grounds are another problem with this machine.


The Vedict
According to consumers' reviews on Amazon, this machine works great, and they love it because it is consistent, uniform and good at grinding .
If you do not want to clean your grinder after each use and your budget is tight too, then Baratza Encore is the most convenient, reliable and economical machine; just made for you. You may not get a premium quality feel while using Encore, especially compared to its classy and more expensive sibling Baratza Virtuoso, but it does a great job at such an affordable price.
---
Rancilio HSD-ROC-SD Rocky Grinder
55 grind settings (start at 25-30 for French Press)
50mm grinding burrs (commercial grade)
Bean hopper with 0.65 lb. capacity
Variable grinder adjustment control.
Grinds directly into the portafilter
Detachable cradle for the portafilter.166-watt direct drive motor.
Weight: 15.4 pounds
Color: Black & Stainless Steel
Dimensions: 9.8 x 4.7 x 13.8 inches
Rancilio is indeed an unbeatable brand when it comes to quality. They always come up with something really stunning and extremely reliable that functions flawlessly.
The Rocky SD burr grinder is one of the best entry-level commercial grinders for all varieties of coffee. This powerful machine can crush coffee beans, within a few seconds, into a fine powder excellent for espresso or a coarse enough grind ideal for French press.
It takes only 20-30 seconds to grind double shot. I can bet you; you won't find this beauty anywhere else.
The premium functioning of this unit in comparison to the rest of the coffee grinders in the same price range put it on a pedestal .
---
Sleek, elegant, durable design
Simple and quiet operation
Easy to use and adjust settings
55 ways to grind (always delivers a uniform grind)
Commercial quality grinding burrs
High quality, powerful and safe
2-year warranty
Heavier than many other burr coffee grinders and will certainly take more space. So, always measure the area you are about to place it before finalizing the purchase.
The removable cradle portafilter becomes a bit unstable sometimes, so do be a little more careful.


The Vedict
This well-built, solid and reliable machine is very admired to by Amazon customers. There is hardly any consumer who complains about this grinder. It usually comes with a 2-year warranty.
If you have an unlimited budget, then do not hesitate and get this brilliant machine. It will allow you to experience the timeless magic of a genuine French Press.
---
Final Thoughts
When it comes to preparing coffee, most of us have a preference. Some choose to keep things simple and prepare instant coffee in their modest kitchens, while others choose to grind fresh coffee beans every time. In my opinion, the exceptionally ground fresh coffee beans will provide you with a genuine taste. Have a try!
If you want to brim with vitality, start brewing your coffee. Buy the fresh beans and grind them with the best coffee grinder some time prior to brewing your coffee. In this way, you will not have to regret losing the compounds which actually give your coffee the amazing aromas and delightful flavors. Therefore, avoid grinding your coffee too soon no matter what. Preserve the real flavor. Enjoy the full taste!