Getting to enjoy perfectly-cooked waffles should not be limited to diners or your nearby IHOP. Given technology today, you can make yourself your own batch right at the comfort of your own home, even while in your pyjamas if you choose to.
This is exactly what the Gourmia GWM490 offers: crisp, golden brown, restaurant-quality Belgian waffles you would be proud to serve up and call your own. Whip up a batch for yourself or for at least a part of two, and you will get to enjoy a sweet, delicious breakfast in just eight minutes, max.
I hope that little intro was able to at least spark up some interest, but I encourage you to read on through this entire review. Maybe at the end of it, you will end up well on your way to becoming a new owner of this impressive kitchen appliance.
Gourmia Waffle Maker Review – Is It Really That Good?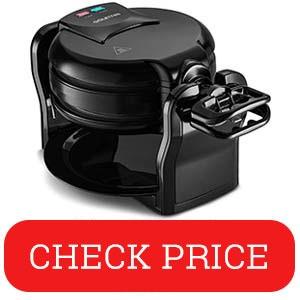 Breakfast can be the most rushed meal of the day; given that it is normally had right before stepping out the door for school or work. Efficiency is needed to avoid wasted minutes and running late.
The manufacturers at Gourmia may have had this in mind, as seen in how the GWM490 is designed. You can actually use both sides of the waffle maker and cook two circular batches that can be divided into four. That is eight instant waffle slices in one go.
And because of its non-stick iron grids, no uncooked or torn waffle batters are left on your machine. It will slip right out upon pulling, giving you the perfect waffle shape. This also makes the cleanup job a lot easier to deal with.
Features and Specs
Waffle makers such as this one need not many extra features. All it requires are LED indicator lights to notify once the machine is powered up and ready to be used, as well as knob settings to help adjust the doneness of the product. This machine, however, does not have the latter and would require you to manually make the assessment of whether your waffles need more cooking or otherwise.
Of course, its key takeaway is its 180-degree rotation feature, which also helps distribute the batter evenly to give that nice, fluffy finish.
Build Quality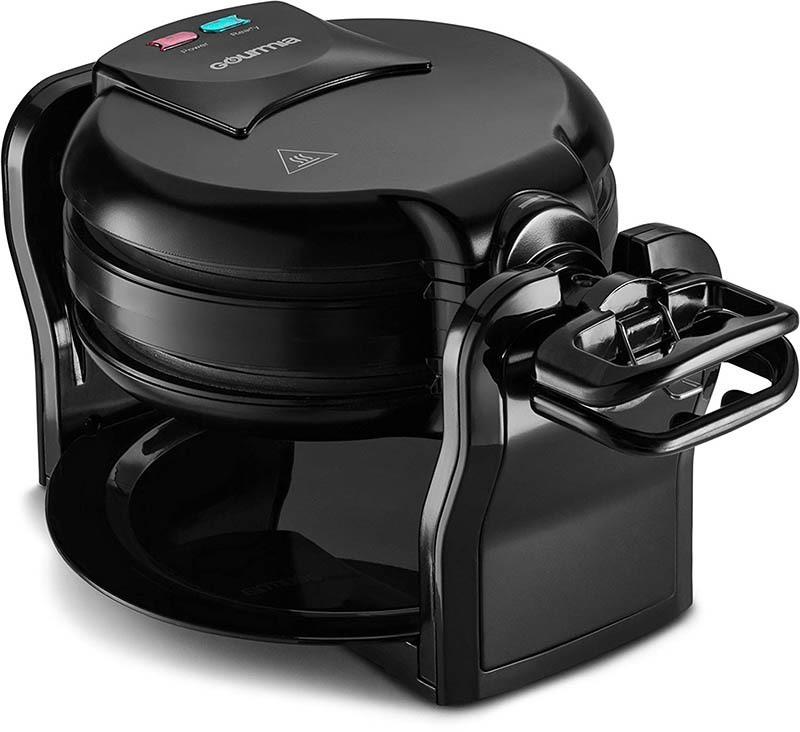 I'm personally impressed with its overall structure. Its stainless steel finish prevents it from acquiring scratches or dents, which are commonplace among accident-prone individuals like myself. It also helps preserve the look of the machine, making it sparkle as if it were forever brand new.
I did encounter some issues with the rotator handle, though. It needs to be lifted then turned in order to flip over properly, otherwise, it tends to get stuck. That is one minor drawback I've seen but tends to be smoothened out once you get used to operating this machine. I had a very similar experience with the Hamilton Beach iron I had the chance to test before the Gourmia so it might be a design "feature".
The Gourmia is more on the bulky side of the spectrum, which means it may take up a significant amount of space in your pantry or kitchen cabinet. With its 14 x 8 x 7.8-inch, 9-pound frame, keeping it when not in use may also be an issue if you live in a small apartment with limited storage space.
Power And Heating Times
This product has so far been able to keep up with its contemporaries in terms of speediness. Pre-heating the Gourmia merely takes an average of three to five minutes, which you will be reminded by the green LED "Ready" indicator light.
This is another testament to the machine's overall proficiency. The overall prep time for your breakfast through this waffle maker could even be shorter than the amount of time it will take for you to get yourself ready for the day ahead.
Cooking Times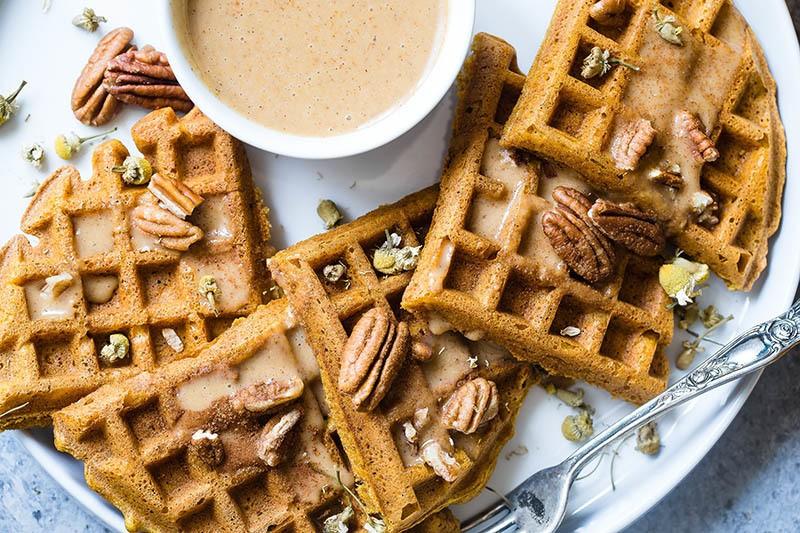 If you're in a mad rush to step out of the house, you may use just one side of the waffle maker, which will give you an average of four minutes of cooking time. Use both sides to serve more people will give you an average of up to eight minutes.
In my opinion, this is still not too long a time to spend making breakfast for you and the rest of your household.
Cooking Performance
I admit that it was a bit of a challenge to use a waffle maker without browning knobs for control. You will need to go with the old school method of using your best judgment to see whether the cooking is done or not.
Through some trial and error, I found that taking the waffles out after six minutes gives me the right toasty level I prefer. Feel free to experiment as well, depending on your preferred brownness.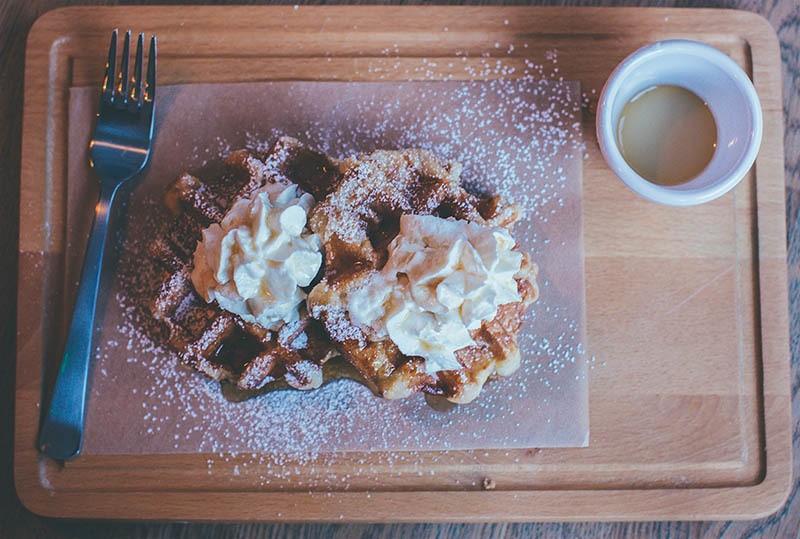 Pros And Cons Of The Gourmia GWM490 Waffle Iron
| | |
| --- | --- |
| PROS | CONS |
| 1. Affordable Price | 1. Quite Bulky |
| 2. Non-Stick Plates | 2. No Browning Control |
| 3. Stainless Steel Body | |
| 4. Simple To Use | |
| 5. Only 8 Minutes To Cook A Waffle | |
Review Verdict And Final Words [yasr_overall_rating]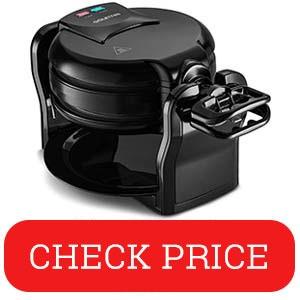 Personally, the Gourmia GWM490 was a game changer for me and my waffle loving life. I used to be intimidated by cooking up a batch that would not end up in the trash bin with just a bite or two on them, let alone the mere idea of cooking waffles itself.
The simplicity of its mechanics actually made it a lot of fun for me and also allowed me to concoct my own waffle recipes. The cleanup has been nothing like a chore as well. I use this almost every day, with very little to no complaints, so far. It is definitely one of the easiest irons to clean so far. We've tried quite a bit here too.
The price is just about right for a waffle maker of such caliber. Despite the very minor issues I've encountered, I still give this a 4.5 out of 5, mainly for the efficiency it brings, how it made me enjoy and appreciate the process of waffle making, and how it has expanded my entire breakfast menu.
I cannot recommend this product enough, and I believe you too can experience tasty, filling breakfast experiences like I had, so far.
If you'd prefer something a little different, a bit cheaper and a bit less spill-prone, why not take a look at the Dash No Spill waffle iron?