We all live in an age where there is so much to do with so little time in a day. Fortunately, technology has adjusted accordingly, as we've seen through products like the Hamilton Beach 26031 Belgian Waffle Maker.
This is your one-stop, bare-bones machine that can create a full, fluffy round waffle before you are even done brewing yourself a cup of coffee. It is also very effortless to clean, which makes owning one a breeze.
By now, you're probably wondering a little more about what this little product can do. If so, just read on through this review and maybe you'll have a better assessment about buying one for yourself.
Hamilton Beach 26031 Waffle Maker Review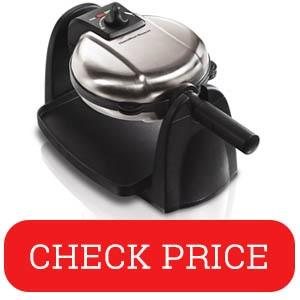 Upon first sight of this product, you will notice how straightforward it is. It has a clutter-less stainless steel exterior with only the Power and Ready lights, as well as the browning knobs visible on the surface. No need to push too many buttons or make any more pre-cooking adjustments.
Even the waffle making process using this appliance is utterly painless. Simply pour in your batter, shut the lid, set your browning knobs from 1 through 3, and flip it over.
Then wait for a few short minutes until the Ready light turns on and the steam subsides, and voila. You now have a generous enough serving of homemade restaurant quality waffles you and your family and friends can dig into.
You may notice a little of that extra mixture seep out from the sides but worry not. It will not spill over to make a mess for you to clean up afterward. In any case, the product comes with a drip tray you can place under the waffle maker as it cooks to catch any excess batter that may trickle out.
Specs And Features
If you are a fan of feature-heavy appliances, the Hamilton Beach is not one of them. But quite frankly, the minimalist design of this product is what makes it stand out.
Especially if you're not a morning person like myself, you would want an instant, hassle-free way to prepare breakfast, whether for yourself or for other people. This product allows you to prepare waffles as you read your morning paper, prepare the kids' lunch, and slice yourself a sweet, luscious piece of fruit. Before you know it, breakfast is done the cooking.
Build Quality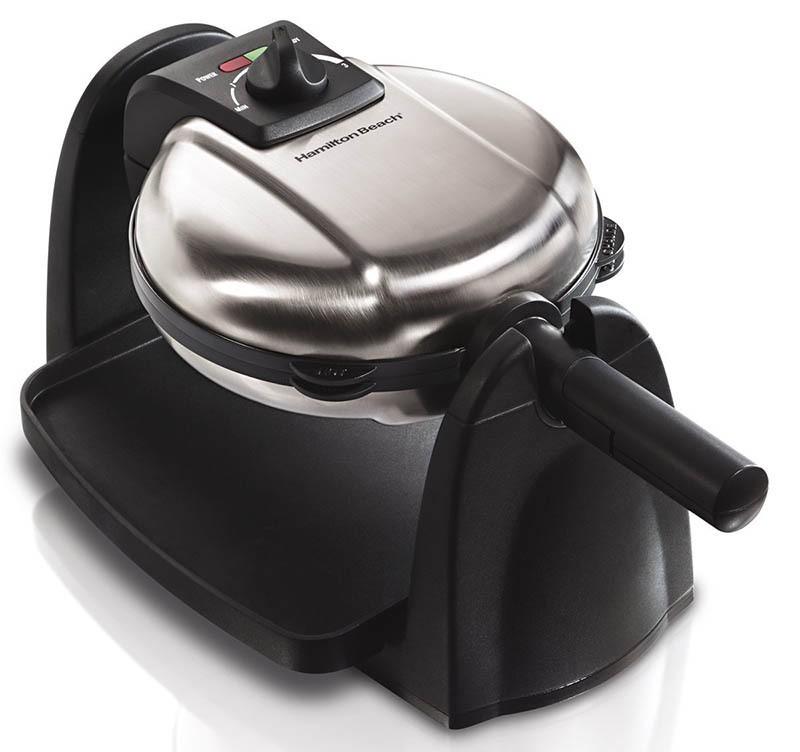 I can see this iron lasting for quite a long time. The stainless steel structure protects it from any dings or scratches that can easily occur in a busy kitchen. You can also expect it to look as good as new even after some years of use.
The one minor drawback is its size and the amount of storage space it will require. You will have to find some room for this appliance for your cupboard, and that might be an issue if you are living in a small space.
Power And Heating Time
You won't need a lot of time to wait for this machine to heat up. Heck, you don't even need to look at your watch. All it needs is up to three minutes to preheat before you can start making your very own golden brown waffles.
Convenience and usability are two of the best assets an appliance can have, and Hamilton Beach surely nailed it with their 26031 waffle maker model.
Cooking Times and Performance
I don't really have any complaints with the cooking time and performance of this product. Same as the pre-heating time, cooking up a round-shaped waffle of four pieces only takes three minutes. You can literally watch it brown and crisp up right before your very eyes.
I'm also perfectly satisfied with how the final product always turns out. As a fan of toasty waffles with a bit of a crunch, this was easily achieved while the brown knob is set a little over the number 2 setting. Of course, you can experiment around and give it a try yourself to find your own happy medium.
The cleanup of the appliance is also as elementary as its pre-heating and cooking process. Just push the two buttons that disengage the two dishwasher-safe waffle grids, take them out, and clean them off. Use a rag or any piece of cloth to clean up any excess batter that may have stuck to the lid or any part of its exterior.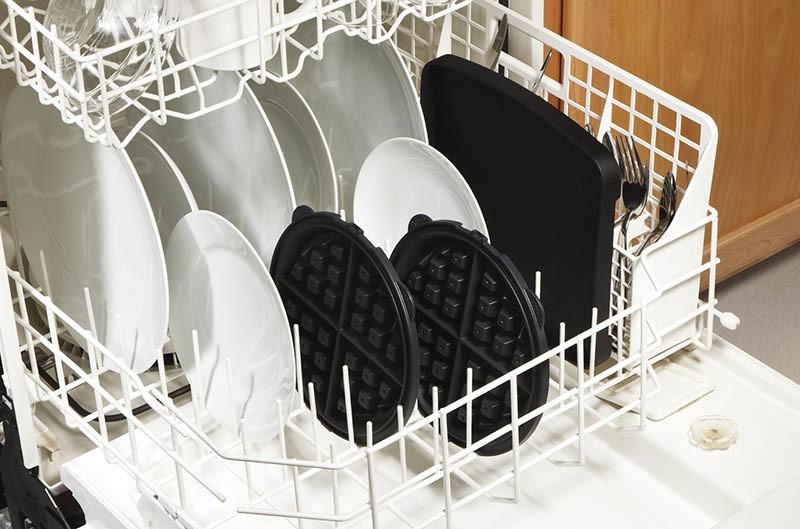 Pros And Cons
| | |
| --- | --- |
| PROS | CONS |
| 1.     Very Affordably Priced | 1. Limited Features And Controls |
| 2.     Heats Up Quickly | 2. Big And Bulky |
| 3.     Very Easy to Clean | |
| 4.    Dishwasher Safe Plates | |
| 5.     Stainless Steel Body | |
Final Words And Review Score [yasr_overall_rating]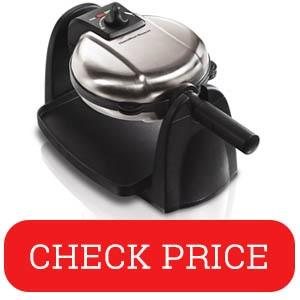 I am a simple person with very simple needs, and a user-friendly, easy-to-use waffle maker would be a joy to have around. Of the many products of the same purpose that are available for purchase, the Hamilton Beach waffle maker definitely stood out, and for various reasons.
I've already gone into detail about how uncomplicated and trouble-free it is to make waffles using this machine, but I can't help but be impressed at the ease and efficiency that it brings to the table, both in the cooking and maintenance aspects.
If there is another personal qualm that I have apart from its bulky frame, it's that it does not have a built-in timer to allow me to determine exactly how long the pre-heating and cooking processes would take.