Having access to a
portable blender
means you don't have to haul out your big, bulky blender every time you want to make your morning shake or a refreshing smoothie. These tiny gadgets can be very powerful compared to their size, and a portable blender can be used outside of the home as well.
In this guide to portable blenders we are looking at the blender best for smoothies, salad dressings, baby food, ice cubes and many more. For each blender we will be advising on the pros and cons, whether we love it or hate it as well as the overall best blenders you can get.
The benefits of having a portable blender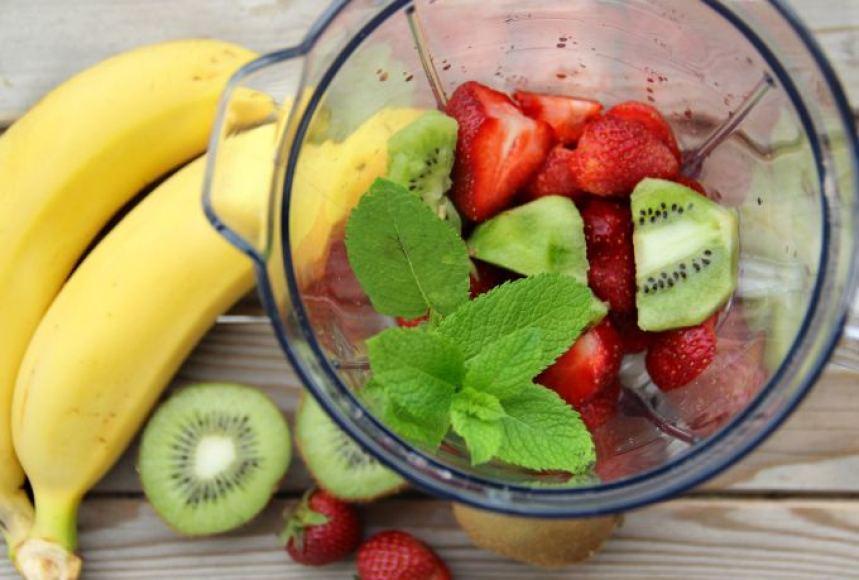 Staying healthy.
A blender can help you make juices and smoothies that keep you healthy and ensure you have all of the vitamins and minerals you need for the day. These are the fuel we need to keep going, and if you like travelling long-term a portable blender will be a must.
Saving money.
A compact and small blender can save you money on buying expensive smoothies from the store. Why not make a batch and freeze it so you have enough blended drinks or food for the week? Blenders also make great baby food which too can save you money on expensive brands.
Never have to change your eating habits.
If you are on a health kick and want to be able to make blended recipes on the go, the compact size of a portable blender means you can take it with you on the go. Whether you are travelling or at work, you will always have access to your own mini blender for a boost of protein shake or fruit juice.
How to find the best portable blender for you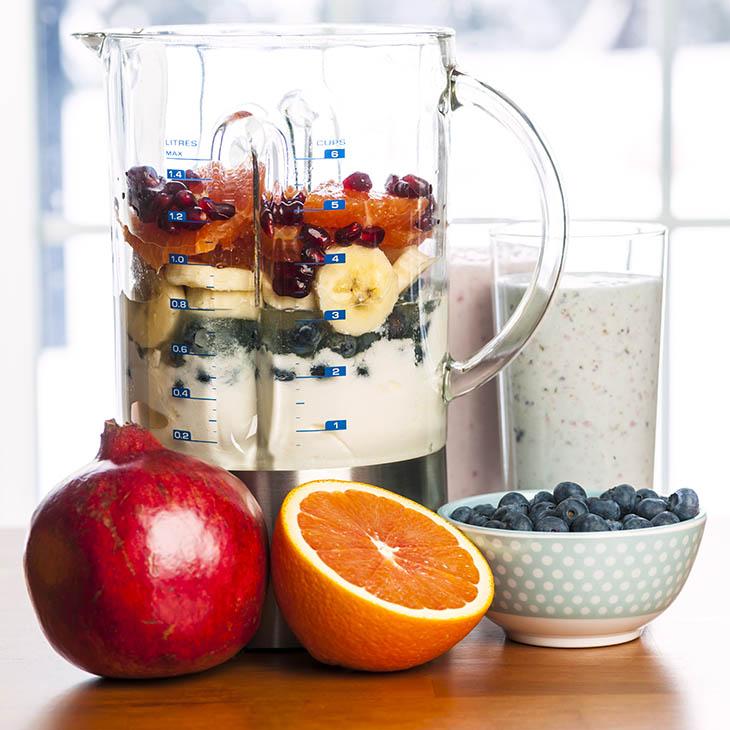 Look at the weight and size.
If you are going to carry your blender around with you then you want one that is lightweight and easy to transport. A travel blender will be perfect in this scenario, but remember to look at whether it will pack easily if you want to take it on the road.
Does it need to be rechargeable?
A blender that has batteries can be very convenient when you don't have a power source nearby. However, if you plan on using that blender a lot then having to replace the batteries constantly could become costly. In this instance you should look for a USB charger to go with your blender. Whatever the charging option you need, you should be able to find in a portable blender.
Power of the motor.
Portable blenders are small and compact for a reason. They are perfect for blending small amounts at a time. Depending on what you want to use the blender for, you may need one with a more powerful motor. Smashing ice to make refreshing drinks may not be something you can do with a compact blender. Instead you should opt for something like the Ninja Professional Countertop Blender which has a huge 1100 watt base. Blenders like this one can cater to larger households and will be much more sturdy than a flimsy blender that doesn't have much power.
So What Are The Best Portable Blenders for 2019 and 2020? 
Let's take a quick look at the winners and the losers in the table below: 
1. Winner – Modern Comfort BlenderX Smoothie Maker
Probably one of the most powerful and impressive blenders out there, the Modern Comfort BlenderX easily makes it onto our best of list and could outdo some of the major brands in this category! Boasting a long-lasting battery life, this portable blender is six times more powerful than any other USB charged blender available on the market today.
You can use the blender outdoors because it's waterproof, and if you want to take it on the go with you it comes with handy water-resistant bag to protect the appliance. The blending jar doubles as a drinking cup and a lid can be attached with a convenient spout so you can take it with you and not have to double up on a drinking glass for your shakes and smoothies.
One of the best things about this blender is that it is perfect as both a portable and countertop option for your blending needs. Many people use this as their at-home blender because of how powerful it is. The manufacturer gives you a two-year warranty in case anything breaks that needs replacing, although it's so sturdy it shouldn't need it.
2. Runner Up – OUSMIN Portable Smoothie Blender
Having a portable smoothie blender that you can take with you on the go makes life so much easier for when you are craving a fresh fruit juice. And this blender gives you that option to make any kind of juice or smoothie you want in just under 40 seconds. Because this product is so easy to carry thanks to its compact size, it won't even take you a minute to blend smoothies on the go. 
You can take the OUSMIN blender anywhere with you because it has been designed mainly as a travel blender. There are 6 stainless steel blades and a powerful motor that pulp any fruits and vegetables almost instantly. The great thing about this compact blender is that you don't need to keep changing the batteries every time you want to use it. It comes with USB charger included that makes it cheap to run and can produce up to 40 blends for you every day. Make your smoothies at home then take them on the go with you using the 2 stainless steel lids provided with the blender. 
What about cleaning? That's another brilliant feature of these travel blenders. There is a program designed to provide a self cleaning operation built in to the blender, so you don't need to take it apart and clean it yourself. Whilst we wouldn't say this is the best portable blender to have, because there are of course down sides, it's definitely a solid option if you want a cheap and easy to clean travel blender to take to the gym or to work. 
3. Bariicare Personal Smoothie Blender
As a single serve blender, the Bariicare Personal Smoothie Blender is compact in size and offers the user more diverse features than many other travel blenders available today. Although it doesn't have a high capacity, it can be taken on the go with you and used pretty much anywhere. It has all of the right elements to make one of the best portable blenders and may even go toe to toe with the popular bullet blenders in terms of motor power. 
Having to store and carry a blender with you may have stopped you from choosing a travel blender in the past. However, this small blender can go with you to the office or the gym without taking up too much space. The power base has a one button control and the blending jar turns into your cup so there's less cleaning up to do. All of the materials that this product has been made from a BPA free and you can put it in the dishwasher, meaning it's easy to clean. 
The blade cannot be removed from the cup but is powerful to crush ice and frozen fruits, which is quite a rarity with travel blenders. This product was a participant in the Amazon best gift list because of how beautiful the packaging is when it arrives. 
There's no need to carry spare batteries with you if you want to take this high watt blender out with you. All of its charge comes from the USB charger provided and can even be charged from the car as well. Once the blender is fully charged you can use it up to 20 times and it takes around 3-4 hours to get a full charge out of it. 
The reason this travel blender is so perfect and makes a great, lower priced alternative to the Nutri Ninja is because of its versatility. You can use it to make protein shakes, salad dressings or even baby food with ease. 
4. Kacsoo SPOW S630 Rechargeable Blender
Now for a blender that seems to have all the bells and whistles but that many people have found to be a disappointing addition to their kitchen cupboards. 
The Kacsoo SPOW comes with a high speed power motor that has a spin speed of 164000rpm. Within 20-30 seconds it claims to be able to blend anything, although we've found this to be wildly untrue. The capacity of the battery, however, is something to boast about. From just one charge the battery can last for up to a week which is pretty impressive for a portable blender. 
With the lack of powerful motor though and the fact that this product is likely to break after a few uses, we wouldn't recommend buying this for family or personal use. Instead choose a similarly priced option from reputable brands such as Vitamix, Cuisinart, Oster and other popular travel blenders like Nutri Ninja. We hope that this blender ends up as a participant in the Amazon's worst blenders of 2019 list! 
5. KONKA Personal Blender
The KONKA personal blender is probably one of the most portable choices which makes it one of the best portable blender options. Although it can't blend ice cubes, the program designed to provide safety built-in to the blender means its fine to use at home or on the go. 
The overall design is very ergonomic and it feels nice to hold in your hand. Whilst it isn't as powerful as some portable blenders that can take on frozen fruit with ease, you can still make our morning smoothies using this appliance. 
The price is pretty suitable for what you get out of this fruit smoothie maker. It comes with a handy lid as well which attaches to the blending cup and becomes a drinking bottle. After you have made your smoothies you have the option to clean it out manually or use the automatic cleaning setting. 
With smoothie makers, although you don't get many that will blend ice cubes, you still want something that can work time and time again without dying on you. The batteries for this blender are completely rechargeable, and you can get about 20 uses out of just once charge. That's a lot of smoothies! 
There are downsides to this product that a lot of people have found during use. First of all the overall design feels flimsy, like the materials would break in your hand if you exerted too much pressure on them. The blender also isn't very efficient on time when it comes to doing its job – blending. This takes a long time even by travel blender standards and you have to move the cup at different angles to get a full blend out of it. 
6. LOZAYI Portable Travel Blender
This offering to our list of portable blenders has one of the biggest jar capacities available on the market, holding 15 ounces of food, juice or smoothies. Having such a big capacity may make you think that the blender isn't powerful enough to blend, but LOZAYI have given it as much power as possible with a 22000rmp blending speed. 
The blender is ideal for people with small children as it can easily take a baby food idea from a recipe book and bring it to life in a safe way. All of the materials are of a baby food grade standard and are BPA free too. You can use the travel blender up to 24 times with just one charge and the time for it to be fully powered is only three hours. 
Aside from the incredibly capacity of the blender and the rate at which the blades work, there are also lids included that attach to the top of the glass jar. These have a carry handle so you can take the bottle out with you without having to transfer the ingredients into a different glass or bottle. 
7. AHNR Rechargeable Personal Blender
When you travel, it's easy to give up your healthy eating routine as there's no easy way to transport your big, bulky kitchen blender to your new destination. With the arrival of powerful travel blenders like the Magic Bullet and the AHNR personal blender, this has become a thing of the past. 
This is a beast of a travel blender with a 150 watt power motor and six stainless steel blades that produce enough power to be able to crush up ice as well as frozen fruits and vegetables. You won't be left without your protein shake or smoothie in the morning as the battery is 2000mAh lithium-ion that holds its charge very well thanks to the power saving function. This set of blender and sports cup drink holder is one of the best blenders to make a protein shake with because the powder won't stick to the bottom or the blades. 
One of the reasons that this line of blenders is ideal for traveling is because it's compact enough to pack in you bag and is rechargeable from any USB port such as a laptop, power bank, mobile charger and even a car. You can see how much battery is left to blend a healthy treat with by looking at the high definition photo quality LED light display set at the front of the base. 
8. PopBabies Personal Blender
This is a digital design blender that we touched on earlier in our review as the best mini blender you can buy today, and here you will be able to see why. This is one of the compact blending products that has been specifically made for children, coming highly recommended for making smoothies and shakes for infants and smaller children to enjoy. All of the materials used to make the cup and lids of the blenders are safe and healthy for children to use and drink from. One of the best things about the PopBabies blender is that it uses encapsulation technology which is perfect as a way of preventing injury during use. 
All you have to do to use this lightweight blender, whether you are blending fruit to make smoothies or trying out a new protein shake recipe, is to press and shake the button. You can drink straight from the cup attached to the base without having to use an additional glass. 
You can see from the photo that this portable blender is all about fun, but it sure does pack a punch with a powerful motor and sharp blades. If you enjoy a fresh cup of coffee in the morning, it can even grind your coffee beans for you – the blades are that sharp. The motor has a speed of 22000 rotations every minute which is fast enough to chop up frozen food with ease. 
Having such a huge range of operations is very rare in a travel blender which is why this is certainly one of the best options on the market. It can do everything from protein shake blends to salad dressings. Cleaning is fast and easy as well as all you need to do is pop it in some water and it does the rest for you. 
9. SHARDOR Portable Smoothie Blender
A portable blender that is perfect for busy moms on the go, this SHARDOR blender can turn soft fruits and vegetables into your kids favourite morning smoothies. Looking both stylish and cute in the photo, this product doesn't disappoint and only takes about 40 seconds to blend the perfect smoothie. 
The one downside to this blender is that it is powered through a cable and isn't rechargeable, which makes the fact that it has difficulty blending harder fruits and vegetables quite surprising. However, we do like that it's completely BPA free and there is excellent sealing around the lids of the cup so that if you pop the sports bottle into your bag, there won't be any leaking. There's a nice handle at the top of the 2 included cups as well so it's easy to carry if you want to take your smoothies with you out of the house. 
There's been no reported problems with the operations of this blender but there is a warranty in place in case anything goes wrong.
10.Chefavor Portable Juicer Mini Mixer
Another disappointing addition to our best of list is the Portable Blender Mini Mixer. From the photo you would think that the function of this blender would match the style of the cup. Unfortunately it doesn't, and what should be an easy process to make a smoothie or blend a puree is turned into an arduous and loathsome task with the help of these portable blenders. 
So where does this particular model go wrong? The first thing the design lacks is usability. The blades are concealed in the top of the lid, so you have to shake the whole device to get it to work. The lid is also where you recharge the blender too, making cleaning the whole thing an almost impossible task. This is definitely not the best place for a wireless charging port, although the charging is magnetic which is quite unique for portable blenders to have. 
Although the the entire cup is waterproof, you wouldn't want to get the charger wet just in case it did some sort of damage. There are plenty of safety features including an auto shut off to save energy, which is something that is much needed with this blender because the battery life is terrible. You can only get 10 uses out of just one charge, which then takes around 5 hours to charge back up again. 
The blender won't work unless the jar has been locked in position, which requires some sort of superhuman strength to be able to do. Getting the dots to line up is painful, and it doesn't even make up for it with its noisy operation and very small capacity. This product is definitely not one of the smoothie makers or mini mixers available, and we would recommend you stay well away from it despite its modern looking exterior. 
How to get the most use from your travel blender?
Let's take a look at the most useful tips and tricks:
​Make smaller portions.
Remember that even the best travel blender is small and not designed to make large portions of food. If you want to blend hard and bigger items such as ice, make sure that your blender has the capability to handle it first of all, then break or slice it into smaller pieces.
Add in any liquid first, then your solids.
Mini blenders, even the best ones, are slated because they can't blend like their larger counterparts can. There is an easy way to get rid of this issue quickly. If you are using any liquid such as milk for a shake or juice for a smoothie, put that in first. Then add in your solids afterwards. Having liquids at the bottom ensures that the solids can circulate properly in the device so that they are crushed properly for better smoothies and juices.
Clean your blender thoroughly and dry it after it has been used.
A lot of the best blenders are now battery operated so that you can take them with you wherever you go with ease. But if you want your blender to work for a long time, you need to clean and store them properly after you use them. Dry them off before you put the cup and the base away otherwise it will end up being covered in watermarks, could damage the blades and may effect the battery life as well.
Never microwave the cup or jar of the blender.
There are very few smoothie makers, even the best ones, that will be able to withstand the heat of a microwave. Blender cups and jars aren't designed to hold hot liquids so aren't safe to put in the microwave either. Most smoothie maker are made from a strong plastic that will melt if you heat it excessively.
What is the best personal blender on the market?
The best personal blender you can get today is the Nutri Ninja Pro. Multiple blender reviews hail this is as the best blender for personal use, and it also was a participant in the amazon race for best kitchen equipment. This personal blender can easily crush ice with a powerful 900 watt motor behind it. The cups included with the mini blender are BPA free and you can also attach Sip and Seal lids as part of the accessories range to take your drinks on the go. Everything is dishwasher safe and easy to clean. If you don't know what to do with your Nutri Ninja a handy recipe book with over 70 recipes also comes included.
What is the best mini blender on the market?
The best mini blender is the Popbabies Blender. We will touch more on this product later, but be safe in the knowledge that this little gadget packs a punch and a USB charger for convenient power options.
What is the best smoothie blender?
The best overall smoothie blender goes to the BlenderX. This blender has the perfect capacity for those single serve smoothies that you don't need a huge blender and a large jar for. This little steel blender comes with a set of cups and can whip up small quantities of food easily. The blender is so good for smoothies because there's no buttons or settings needed. All you do is press the cup down onto the blender, then press blend. The set includes a power base, one party cup, one short cup, one tall cup and a recipe book, along with more extras for storing food.
Our Final Thoughts on Travel and Personal Blenders
All of the options we have presented are there to help you make an informed decision on the best smoothie maker or travel blender on the market. You never want to compromise on the quality of your blender because you will only end up replacing it in a month or two if you don't look at all of the pros and cons associated with it.
We've done all of the hard work to find the best smoothie blenders available today. Even the most expensive and best branded ones have their cons, so it's important to weigh up your options. All of the blenders we have reviewed here come with the same standard features but some have added extras that make them the stand out best from the rest.
The blenders that are easy to carry and compact in size are more convenient if you want a blender for travel or if you want to be able to make your favorite drinks at work or at the gym. If you want a personal blender that won't take up much space in the kitchen, one that is a little larger will be the best option for you.
For those who have a larger family and need to make multiple portions out of one blend, then a multi-cup blender with all of the blade safety features is definitely the best route to go down. But if you are a busy person who is always on the go and only needs to make one portion at a time, there are plenty of single cup blenders available.
Rechargeable options have been made for people who want to use their blenders outdoors without have to find a power supply. If you plan on keeping the blender in the kitchen then best choice cord be a corded appliance that gives you more power to blend hard foods and ice.

Everyone has a different preference and you won't know which is the best blender for you until you know exactly what you need it for. It may be that you start out with one cheaper appliance, decide what you like and don't like and then upgrade to a higher priced model. Whatever you do, one thing we can ensure is that all of the blenders we have said are the best are the supreme choice in their own specific categories.