The Breville BKE700BSS soft top pure tea electric kettle is one of the many similar product on the market, however, it is also tipped to be one of the best available too. Piqued by curiosity, I went and bought one to help my coffee making endeavors in the early hours of the day. Now the big question is does it live up to its name or is it just pure quack and no meat?
Breville Electric Kettle Review – One Of The Best Around
Since this is made by Breville, a brand that is known for its innovative household products, quality is the least bit of concern. On the other hand, there is a whole lot of other stuff to check in order to decide whether or not it is worth it. Hold on tight as I review the Breville BKE700BSS.
The Breville electric kettle's body is made of brushed stainless steel which makes it sturdier harder to break than those with plastic or glass bodies. Although the body is made of steel, it has soft grip ergonomic handle with a release button to easily open the soft top lid. The kettle can hold up to 1.7 liters of water or around 7 cups and has a removable scale filter. It has two water windows that will allow you to view the water level and the boiling action that is happening within the kettle.
This kettle is equipped with an on and off button. It also produces a 'ding' sound to let you know that it has reached the boiling point and is automatically shutting off.
Power and Heating Performance
The Breville BKE700BSS utilizes 1500W heating element for rapid boiling of the water inside – no waiting or fussing around. That much of power means that the water reaches the boiling point quicker. The product comes with a three foot long cord that could easily be wrapped and stored at the base of the kettle.
Pros Of The Breville Electric Kettle 
1. Two Water Windows – Cool And convenient
What I love with the Breville soft top is its two water windows. These guys basically give you the front seat to watch everything unfold. My fascination with these kind of stuff is another factor, however, it also has its functional uses. Thanks to these windows, you can instantly know and speculate how much more time the kettle requires to boil the water. That, of course, is without the needless and untimely steam bath your face receives after opening the lid. In addition, you may also see how much water is left in the kettle and how much more you need to add for the next batch.
It's just perfect for those like me who are too lazy to open the lid each and every time to check on stuff.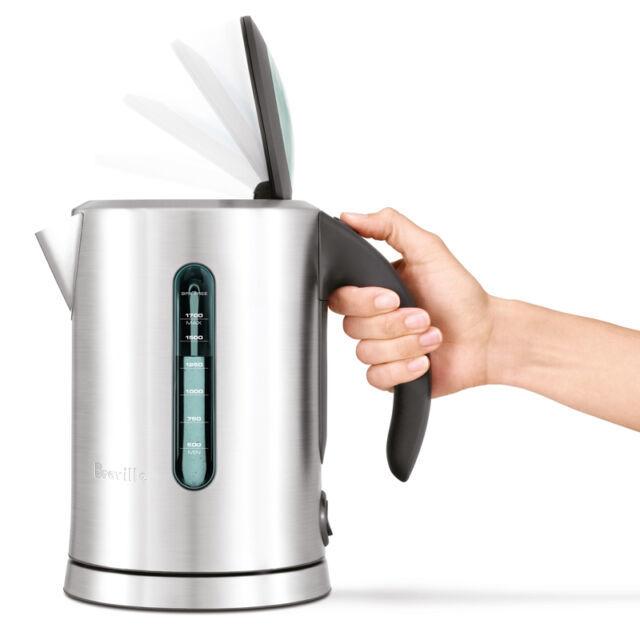 2. Quick Water Heating
We purchase electric kettles for one purpose… well, to heat up water. Breville BKE700BSS just does a very fine job at that. After putting 7 cups of water into the kettle, pressing the switch, then whistling or whatever you want to do in the span of a few minutes and the water is finished boiling. In addition to that, the removable scale filter ensures that water is always clean and no debris of some sort will contaminate it as it boils. The concealed heating element also helps maintain the cleanliness of your hot water.
3. Slow Lid Opening
The soft top lid of this kettle allows it to open slowly. This avoids the splashing drops of boiling hot water which will definitely scald the skin. This also allows the steam to slowly diffuse into the air and avoids a mushroom like steam coming out.
4. A 'Ding' Bell Sound to Notify You When it's Done Boiling
Its automatic shut off feature is amazing and all, but it is rendered useless if we forget about it and it gets cold again sooner or later. That's why the 'ding' sound it produces when it's done boiling is just pure amazing. It basically gives our sleeping who may or may not have forgotten about it a little nudge.
Cons
1. The Metal Body Heats Up During Operation
The sturdy and hard stainless steel body does have its own downside. It absorbs the heat of the water and becomes a burning hazard to your vulnerable fingers. After reaching the boiling point, the only safety areas that your fingers could and must touch are the soft handle and the on/off switch. That is, of course, assuming that you do not want a scald on your fingers.
2. No temperature setting
The kettle's lack of temperature control also does not help in this situation. It can only go two ways; on and off. There is just no in between. Despite having automatic shut off feature upon reaching the boiling threshold, it just does not prevent the metal from heating up.
Review Verdict / Score 4.5/5 [yasr_overall_rating]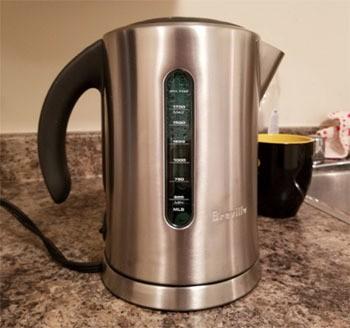 Honestly speaking, I love this product. Putting it in simple words, it does what it is supposed to be doing — heating water. In addition to its fast and convenient boiling capabilities, it is durable enough to withstand clumsy mistakes that can easily occur. Also, it is perfect for busy bodies, such as myself, who no longer has the brain capacity to remember that I've heated a cup of water, since it has the alarm that gives off a 'ding' when it's done.
In regards to the risk of burning your hands or fingers, you're in the clear as long as you are mindful enough to remember that the metal is burning hot. Also, it's not like the handle is too little for you to miss it.
If you are looking to buy a new kettle or looking for a replacement for your old one, then I recommend that you at least check this one out.